Item specifics
Mfg Series Number:
Assembly/Assembling
Version Type:
First Edition
Commodity Attribute:
Assembly
By Animation Source:
CHINA
Condition:
In-Stock Items
Completion Degree:
Semi-finished Product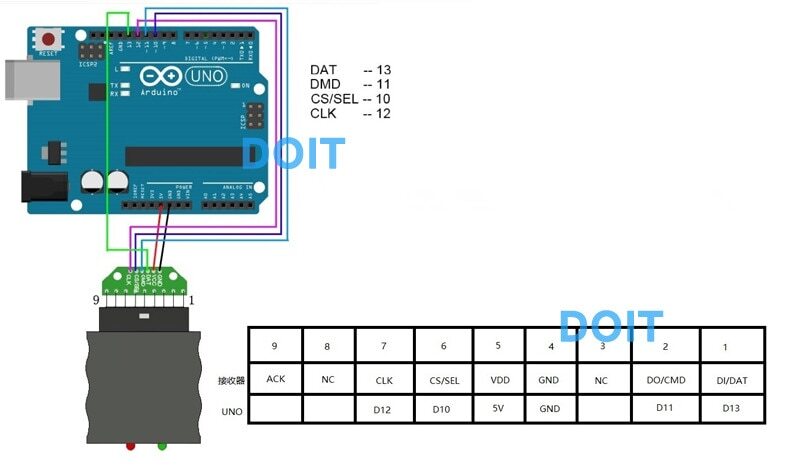 Note:
The power indicator of the handle and receiver should be lit to ensure sufficient power supply;
When the pairing is unsuccessful, the signal light flashes, and the signal light does not flash after being connected.
The motor can be controlled by pressing the four buttons on the left side of the handle.
If the pairing is not successful, try pressing the start button on the handle.
Pay attention to the positive and negative poles of the handle, do not insert it. Plugging in and easy to burn out the receiver.
32-way servo control borad parameters
Features
The hardware is redesigned and the signals are all isolated. (Hardware performance increased by 10 times)
Rewrite the code all. (10 times more stable)
The onboard 16M small U disk can store tens of thousands of action groups. (50 times improvement)
An upgrade package is released every month, entering the era of flashing machines.
Full support for PS2 joystick and 32-way servo control board.
Support wifi wireless control (need to purchase wifi module).
Computer, mobile software in simplified Chinese, traditional Chinese and English
The biggest advantage of this product is: you can use computer software to control the robot, or control your servo. It can control 32 servos at the same time, with high precision (1us). It adopts a 32-bit CPU imported from the United States and integrates a USB communication interface inside.
Characteristic
Separate power supply for servo and control board, independent power supply
Control channel: control 32 channels at the same time. (Steering gear speed is adjustable)
Communication input: USB or serial port (TTL)
Signal output: PWM (accuracy 0.5us).
Servo drive resolution: 0.5us, 0.045 degrees.
Baud rate range: 9600 19200 38400 57600 115200 128000.
Supported servos: Futaba, Hitec, Fraser, Spring, etc. More than 98% of the servos on the market
PCB size: 63.5mm × 43.5mm.
Mounting hole spacing: 55 * 35.5mm.
Storage space: 16M U disk on board.
Mode description
USB connection mode: plug in the computer and control through the host computer.
UART connection mode: Send command control through other TTL serial level devices, such as Bluetooth, WIFI, MCU, etc. Instructions such as: "# 1P1500 # 2P1000T3000 \\ r \\ n", instructions such as: "G1 \\ r \\ n"
Offline operation mode: It will be executed automatically upon power-on.
PS2 wireless remote control mode: Connect the power supply and connect the PS2 wireless remote control receiver to wirelessly control. (PS2 remote control can support single servo remote control, or 20 action group remote control)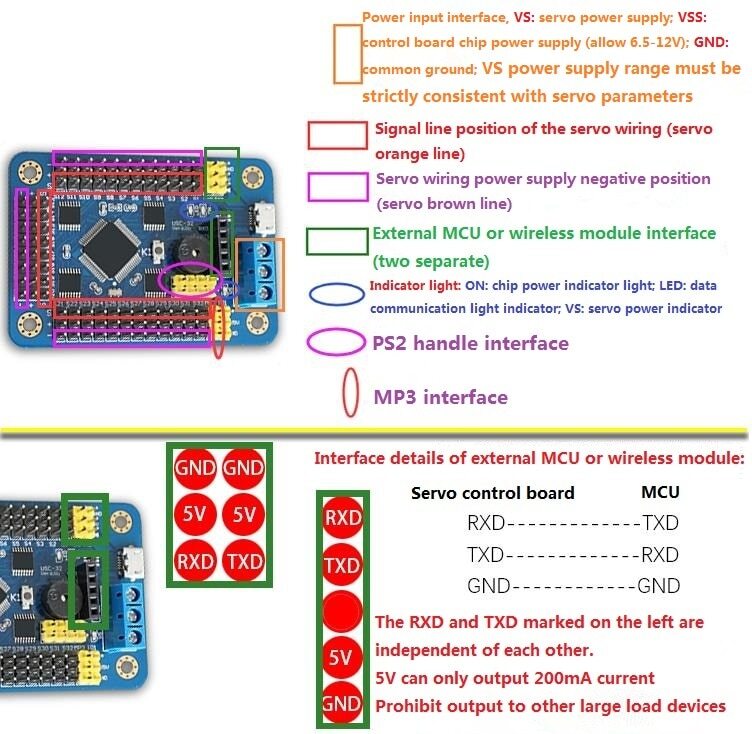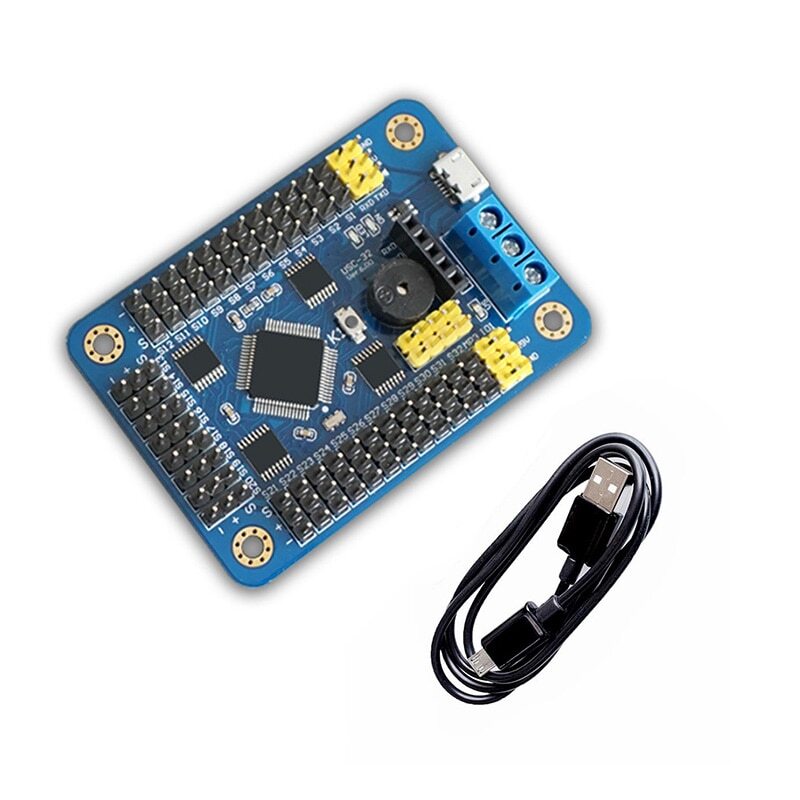 1 pcs PS2 handle
1 pcs receiver
1 pcs 32-way servo control board with USB cable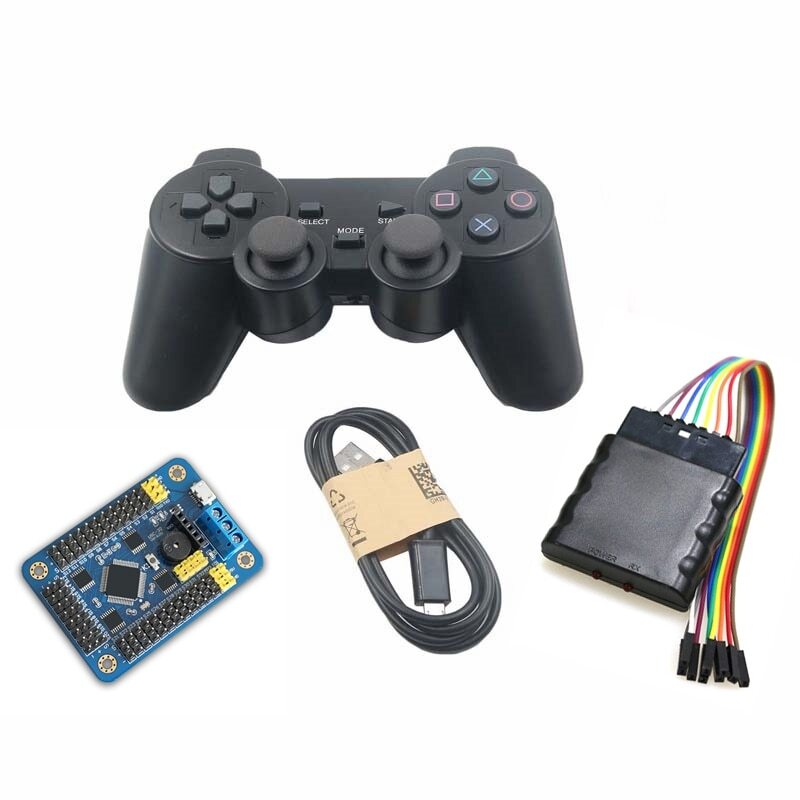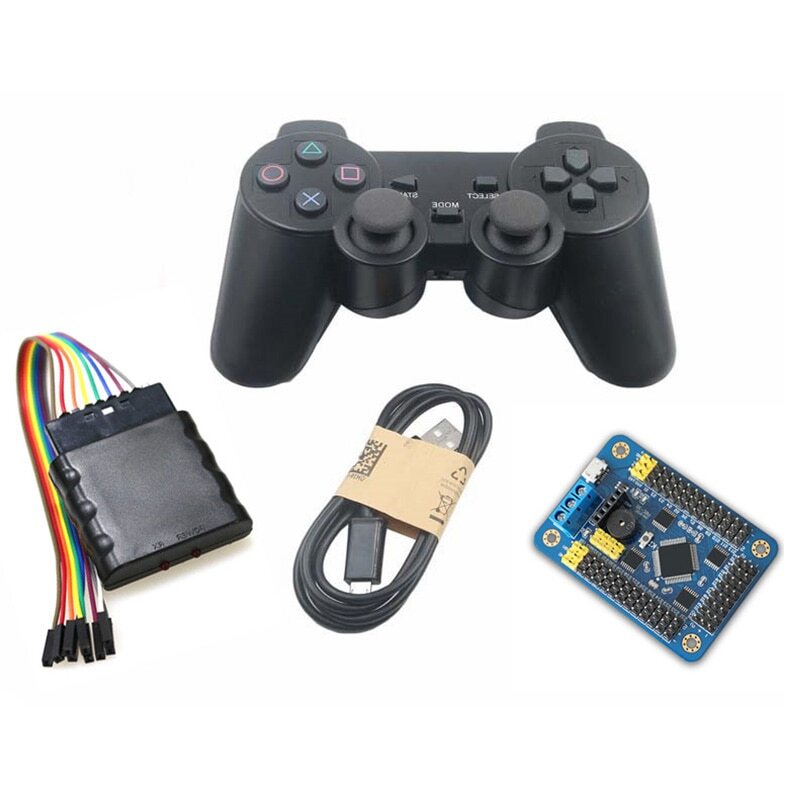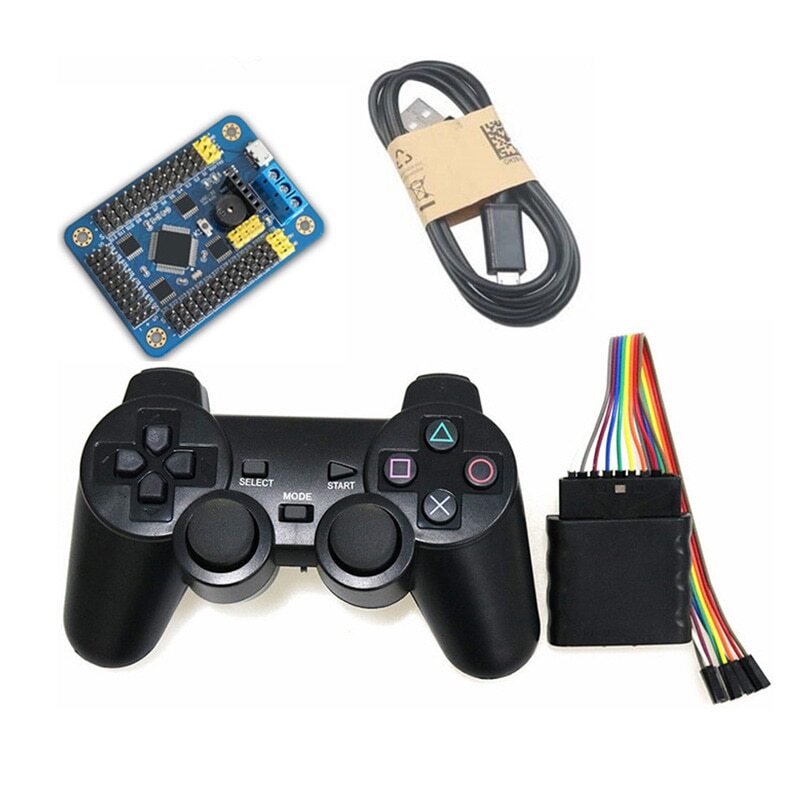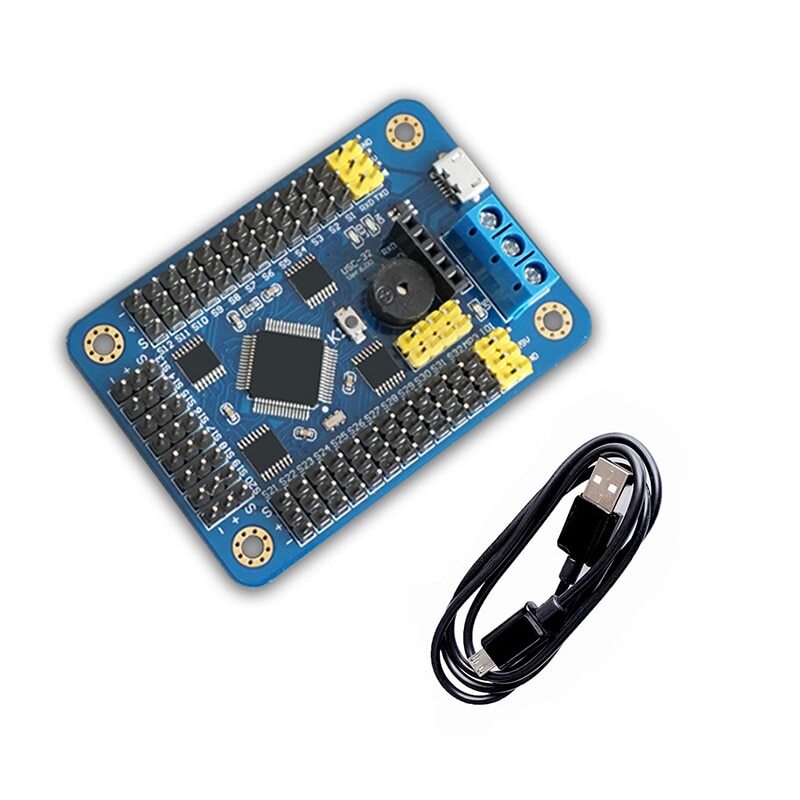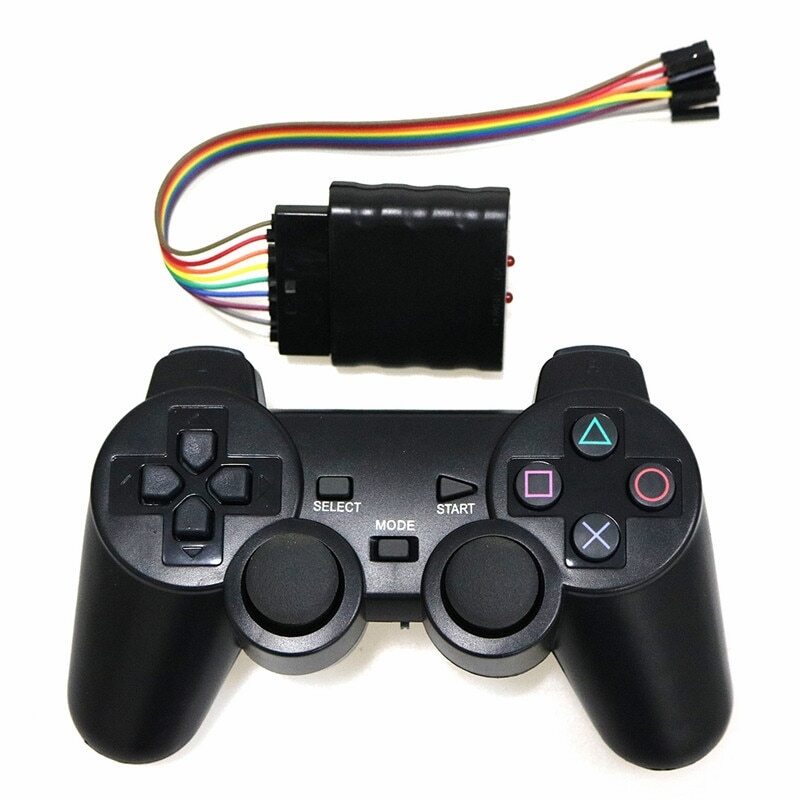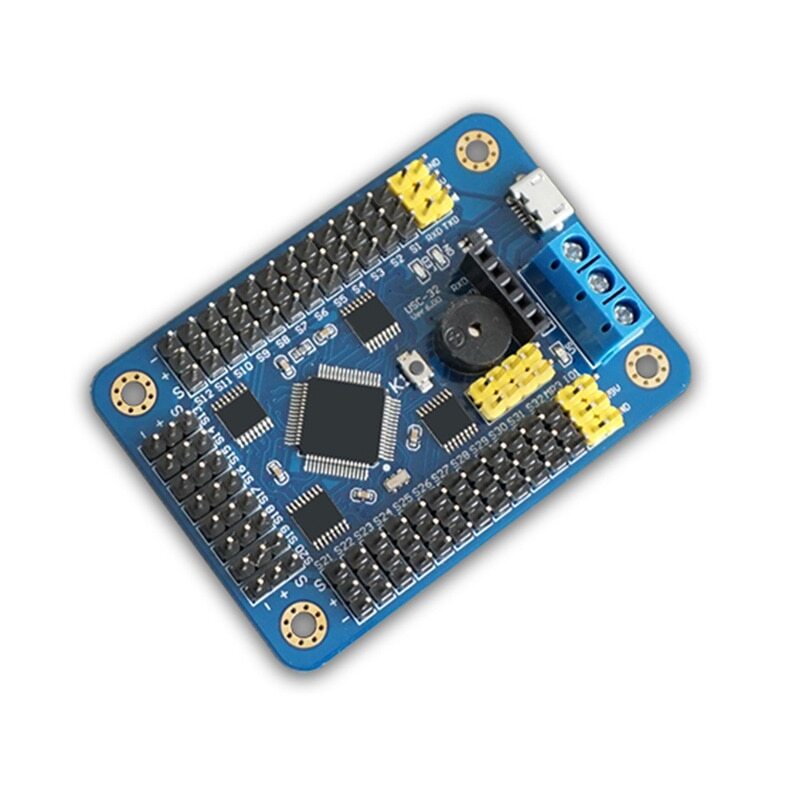 1. Due to computer monitor and the actual shooting brightness and other reasons, there will be
a certain color difference.
The final color please refer to our actual goods. Please know this before you buy it. Thank you !
2. The picture we show is 
100% Real
 Object Photography.
3. The size may have 
2-3cm
 d

iffers due to the maunal measurement.
4. For  the shipping convenience, the product is 
unassembled
.

1. Preparing Time: we need 2-5 working days to prepare your order according to our numerous orders every day.
2. Free Shipping for worldwide if you choose ePacket.

Note:
The information of new tracking number for China Post Ordinary Small Packet Plus can not be tracked when it is shipped out of China. Whether it is arrived or not,it will no more tracking information.
Please choose China Post Air Mair if you want a full tracking information.
Tracking information of China Post Ordinary Small Packet Plus can be checked here: www.17track.net.

1. If you are satisfied with our products and services, please leave your positive feedback and 5 stars, and 5 stars for the detailed rating of your order. Once you show us the screenshot of both 5 stars, we will give you $3 DISCOUNT for each order over $50 in your later purchase.
2. If you share our product link on your SNS or Facebook, we will give you $3 DISCOUNT for each order over $50 in your later purchase as well.
3. If you are not satisfied with our products, pls contact us before you leave neutral (3 stars) or negative (1-2 stars) feedback. We guarantee we will 100% slove any problem for you.
4. Please email to us before leaving the negative feedback or opening any dispute on the site. Communication is the best way to solve the problems.