Item specifics
Material:
Composite Material
Tool Supplies:
Assembled class
Upgrade Parts/Accessories:
Frame
RC Parts & Accs:
Connectors/Wiring
Use:
Vehicles & Remote Control Toys
Technical parameters:
Value 9
Remote Control Peripherals/Devices:
Remote Controller
Four-wheel Drive Attributes:
Assemblage

The ViVi humanoid robot control board is based on the development of our ESP-F WiFi module, which leads to the serial port TTL pin, setting EN and STATE buttons. The product can be built in our humanoid robot firmware to complete the real-time transparent transmission of data from the TTL port to the WiFi/cloud of the device, with low power control and power status indication. This module can directly replace the original wired serial port to realize data transmission and control of embedded devices.

Fully compatible with the original wifi transparent transmission module electrical and physical interfaces;
Reliable and stable robot firmware, support WEB interface configuration download, graphic action download programming
Based on ESP-F high-performance WiFi module, overall size: 24mm × 16mm × 3mm;
Power supply voltage: 4.5V ~ 6.4V, TTL voltage: 3.3V;
Lead-out pins: 3.3V, TXD, RXD, GND;
Average current: 80mA; Maximum working current of 3000mA when sending WiFi data;
Support serial AT command;
Support reprogrammable, OTA firmware upgrade;
Serial and WiFi data transmission seamlessly in real time;
Built-in HTTP Web Server, supporting web page configuration parameters;
WiFi supports AP, STA, AP + STA three modes;
Support reconnection in WiFi STA mode and reconnection in TCP Client mode;
The serial port supports setting the baud rate, data bits, parity, stop bits, and packet time;
Support baud rate (bps): 300/600/1200/2400/4800/9600/19200/38400/57600/74800/115200/230400/460800/921600/1843200/3686400;
Operating temperature range: -40 ℃ ~ + 125 ℃;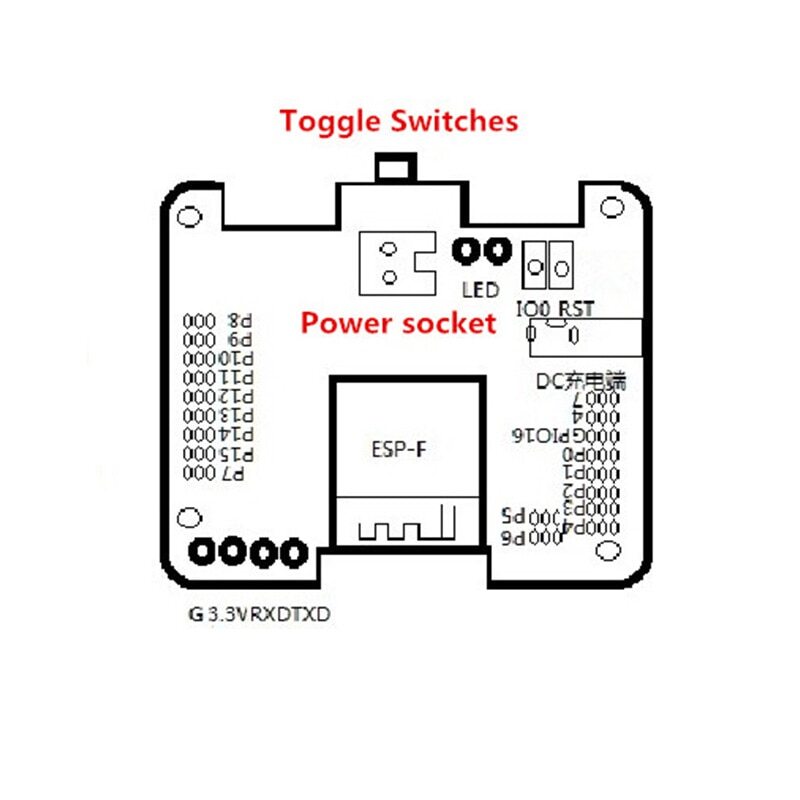 Interface definition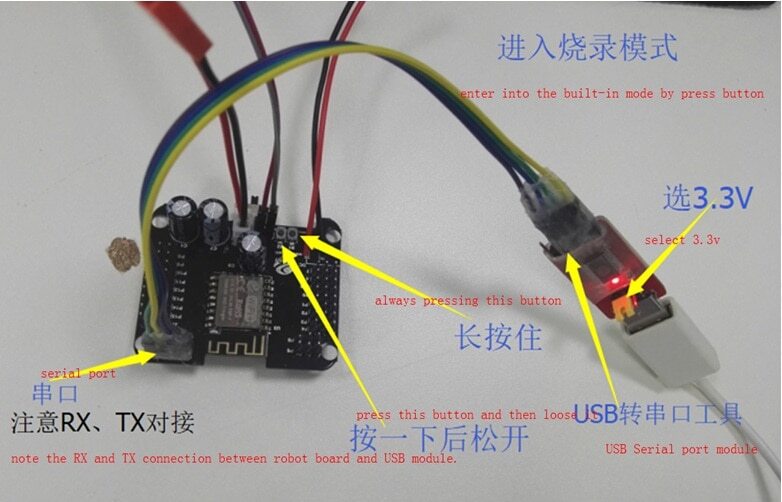 CP2102 module
TXD: The sender is generally represented as its own sender. Normal communication must be connected to the RXD of another device.
RXD: The receiving end is generally represented as its own receiving end, and normal communication must be connected to the TXD of another device.
In normal communication, the TXD of its own is always connected to the RXD of the device!
Self-receiving: RXD is connected to the TXD of other devices during normal communication. Therefore, if you want to receive the data sent by yourself as the name implies, that is, you receive the data sent by yourself, that is, its own TXD is directly connected to RXD, which is used to test its own transmission and reception. Whether it is normal or not is a quick and simple test method. When a problem occurs, the test is first performed to determine whether the product is faulty. Also known as loopback testing.
Level logic:
TTL level: Normal data indicates binary, +5V is equivalent to logic "1", 0V is equivalent to logic "0", called TTL signal system, is positive logic
RS232 level: -12V to -3V, equivalent to logic "0", +3V to +12V logic level, equivalent to logic "1", is negative logic
CP2102 module product description
The main chip is CP2102, and the virtual serial port is generated after the driver is installed.
USB power-up, the output interface includes 3.3V (<40mA), 5V, GND, TX, RX, the signal pin level is 3.3V, positive logic
On-board status indicator, transceiver indicator, the status indicator will be on after the driver is properly installed. The transceiver indicator will flash during communication. The higher the baud rate, the lower the brightness.
Support baud rate from 300bps to 1Mbps
Communication format support: 1) 5, 6, 7, 8 data bits; 2) support 1, 1.5, 2 stop bits; 3) odd, even, mark, space, none check
Support operating system: windows vista/xp/server 2003/200, Mac OS-X/OS-9, Linux
USB head is male, can be directly connected to the computer USB port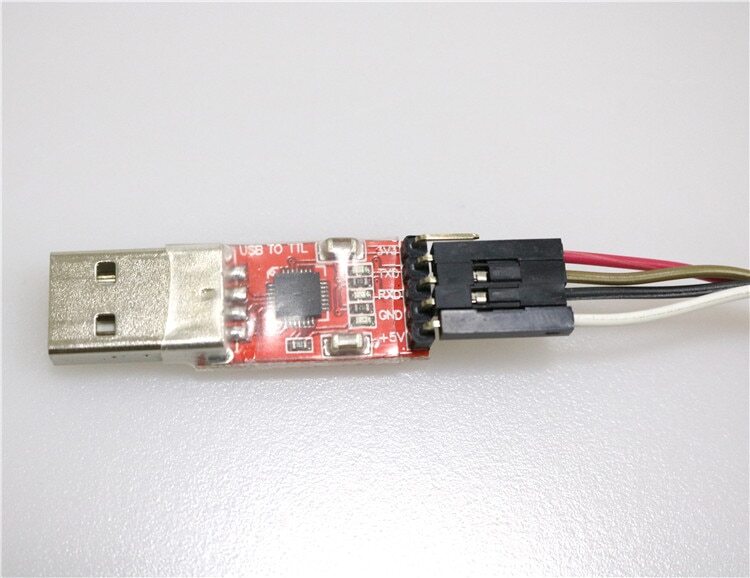 1 pcs control board
1 pcs CP2102 module send dupont line


1. Due to computer monitor and the actual shooting brightness and other reasons, there will be
a certain color difference.
The final color please refer to our actual goods. Please know this before you buy it. Thank you !
2. The picture we show is 
100% Real
 Object Photography.
3. The size may have 
2-3cm
 d

iffers due to the maunal measurement.
4. For  the shipping convenience, the product is 
unassembled
.

1. Preparing Time: we need 2-5 working days to prepare your order according to our numerous orders every day.
2. Free Shipping for worldwide if you choose China Post.

Note:
The information of new tracking number for China Post Ordinary Small Packet Plus can not be tracked when it is shipped out of China. Whether it is arrived or not,it will no more tracking information.
Please choose China Post Air Mair if you want a full tracking information.
Tracking information of China Post Ordinary Small Packet Plus can be checked here: www.17track.net.

1. If you are satisfied with our products and services, please leave your positive feedback and 5 stars, and 5 stars for the detailed rating of your order. Once you show us the screenshot of both 5 stars, we will give you $3 DISCOUNT for each order over $50 in your later purchase.
2. If you share our product link on your SNS or Facebook, we will give you $3 DISCOUNT for each order over $50 in your later purchase as well.
3. If you are not satisfied with our products, pls contact us before you leave neutral (3 stars) or negative (1-2 stars) feedback. We guarantee we will 100% slove any problem for you.
4. Please email to us before leaving the negative feedback or opening any dispute on the site. Communication is the best way to solve the problems.