DIY 6DOF Robot Arm with G6 Robot Claw 360-degree All-metal Rotating Base for Arduino WiFi/Bluetooth/PS2 Control Kit for Choose
0
stars, based on
0
reviews
Price:
$113.88$110.88 / piece
Order Processing Time: This item will be shipped out within 3 working days |
FREE SHIPPING
Color

Black WiFi
Black Bluetooth
Black PS2
Silver WiFi
Silver Bluetooth
Silver PS2
Item specifics
Version Type:
First Edition
Commodity Attribute:
Assembly
By Animation Source:
China
Condition:
In-Stock Items
Completion Degree:
Semi-finished Product

1.  The new 6-DOF manipulator, 360-degree all-metal rotating base, is more beautiful in appearance and more powerful in rotation. Can be used for research, education or various competitions.
2.  This mechanical arm complete set of metal fittings is made of hard aluminum alloy with a thickness of 2mm, which is very durable. The rotating base is a bright spot of the device. The base shape is very beautiful and the bearing base is perfectly designed. It consists of a set of metal discs and a large metal bearing. In this way, the circular large bearing and the copper post of the base can well bear the entire weight of the mechanical arm and the force generated by the operation, and the steering gear that controls the left and right rotation of the mechanical arm is well protected, making it more flexible and improving the base. The smoothness greatly extends their life. The large-diameter disc bearing of the robot arm makes it run more smoothly, so that the base can still operate freely under heavy load.
3.  If you need it, you can use our control kit to make it easier to control the arm and make the corresponding joints of the arm more comfortable. We also recommend that in this robot arm, the MG996R steering gear can be used for the joint with higher force, and the MG995 steering gear can be selected for the joint with relatively small force. The MG996r steering gear has a rotation angle of 180 degrees and the MG995 has a 360 degree steering gear.
Note: This product is all spare parts, please install according to our installation instructions.

G6 robot claw parameters
Paw material: hard aluminum alloy
Paw weight: about 40g (without steering gear)
Color: black and silver
Pitch maximum angular separation: 86mm
The overall length of the paw: 83mm (the overall longest length when the paw is closed)
The overall width of the paw is 1:150mm (the maximum overall width when the paw is opened)
The overall width of the paw is 2:55mm (the maximum overall width when the paw is closed)
The overall thickness of the paw: 54mm (with the maximum overall thickness of the steering paw)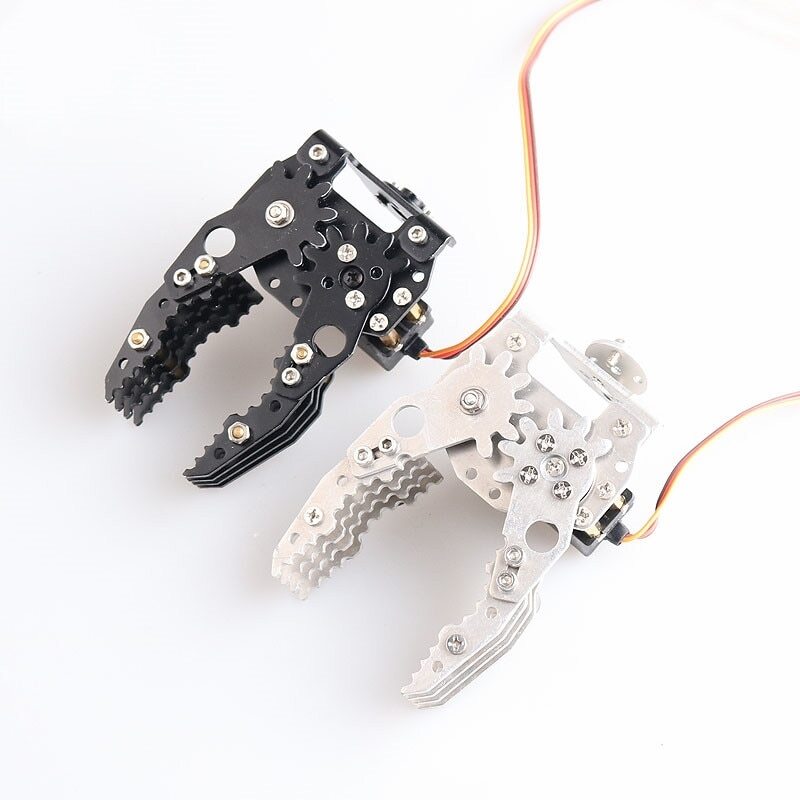 MG996R servo parameters
Connector line: heavy duty, 11.81" (300 mm)
Colour: Black
Gear: metal gear
Working voltage: 4.8 - 7.2Volts
Stall torque: 12 kg - cm (208.3 oz.) at 6V
Stall torque: 9 kg - cm (180.5 oz.) at 4.8V
Working speed: 0.13sec/60 degrees (6.0V no load)
Working speed: 0.17sec/60 degrees (4.8V no load)
Weight: 55 grams
Product pull: 15kg/cm (6V)
Product size: 40.7mm×19.7mm×42.9mm
Three lines of steering gear connector: orange - signal red - positive brown - negative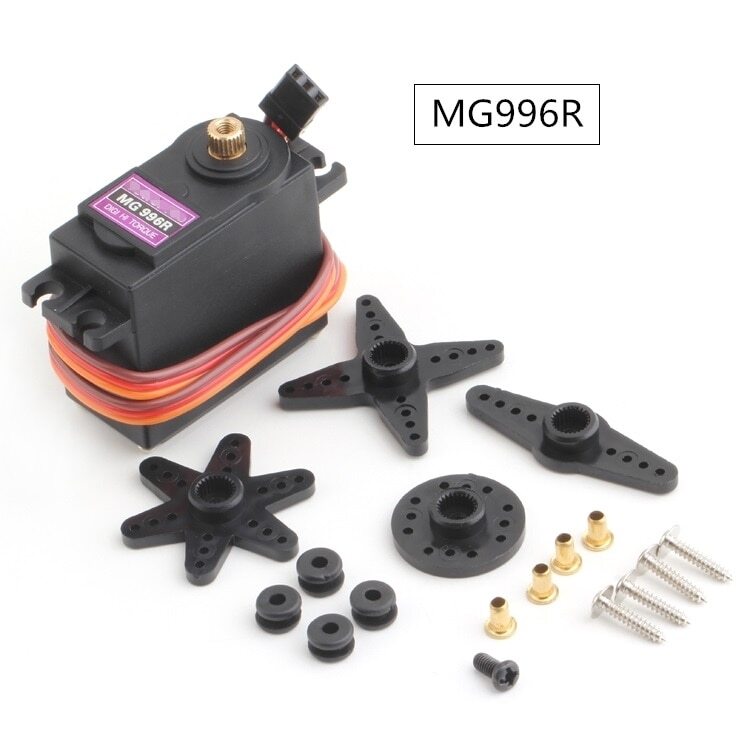 Module pin description and schematic
16-way servo and four-way motor drive board, using TB6612 four-way drive, PCA9685 for 16-way servo control.
Bring out Arduino UNO I/O pins
Power supply maximum input voltage 15V/DC
Reserve Bluetooth & WIFI module socket
Reserved PS2 handle socket
Four-way DC motor drive, single-channel maximum drive current 1.2A average / 3.2A peak.
The 16-way servo drives the pins, and the power can be switched by the external/internal power supply of the jumper cap.
Product technical specifications
1.power input
Motor power supply (VM): 4.5V ~ 36V, can be powered separately.
Steering gear power supply (VIN): 5 ~ 18V, can be powered separately.
2.single power supply use
Open circuit VM and VIN, (separately control the motor, 6 ~ 36V).
Open circuit VS and VIN, separately control the servo (6 ~ 18V).
Short-circuit VM and VIN while shorting VS and 5V. Simultaneously control the motor (6 ~ 18V) and 16 5V servos.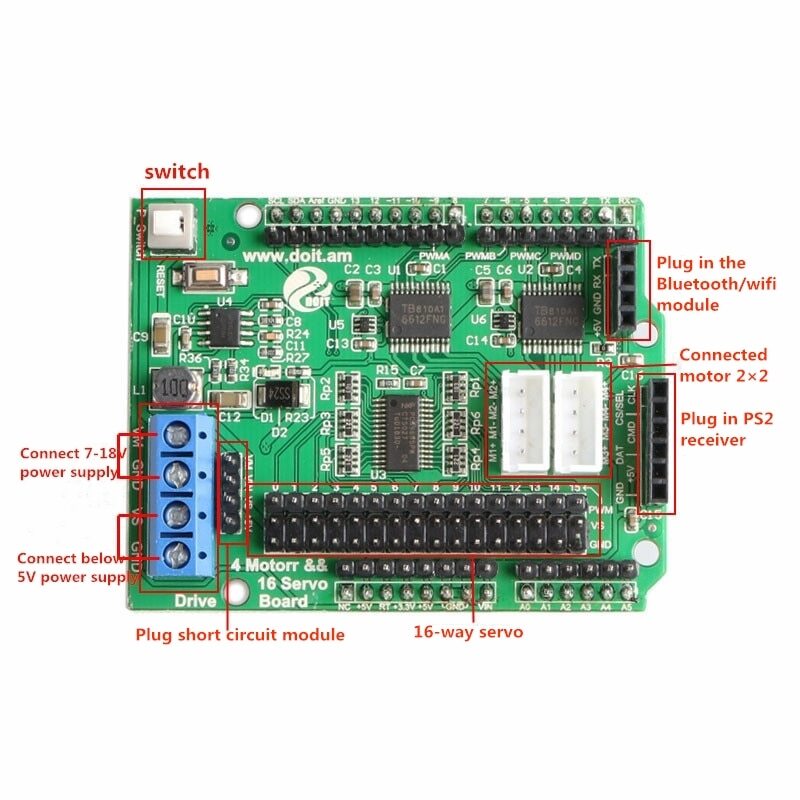 Note: 
Because the production batches are different, the development board has two colors, blue and green, and we ship them randomly.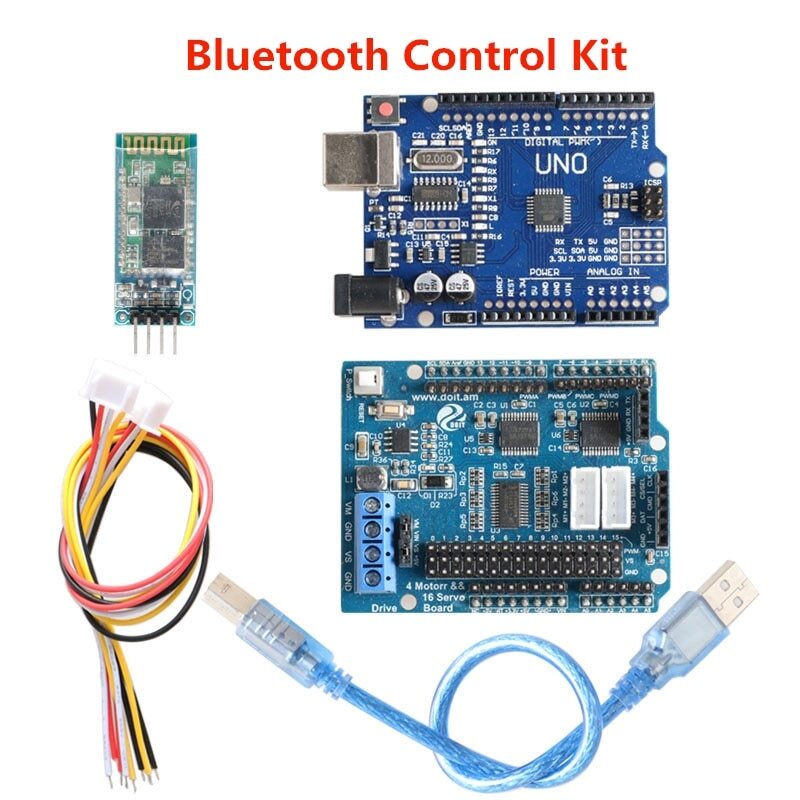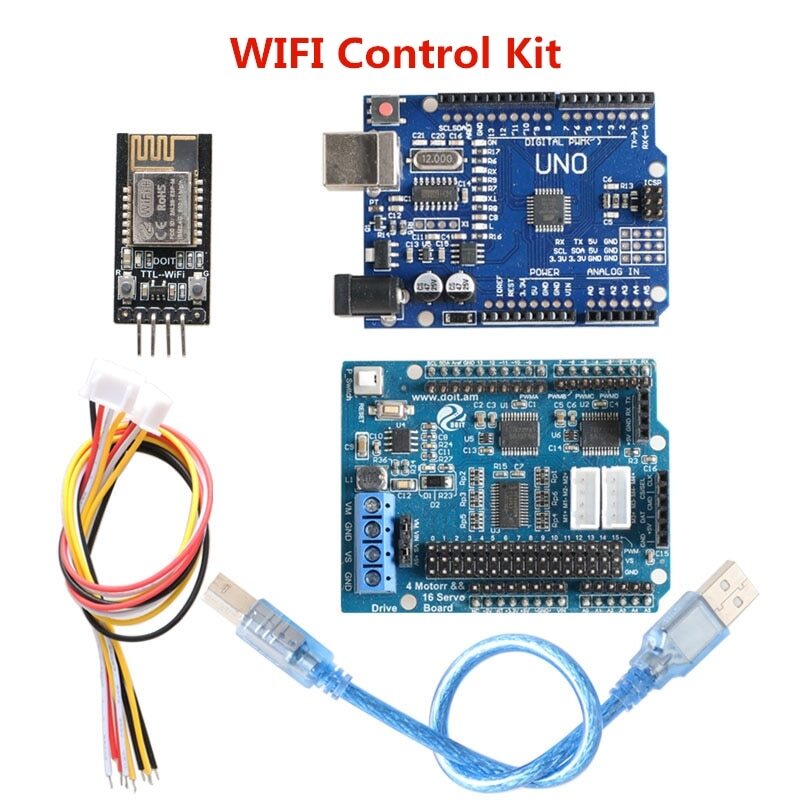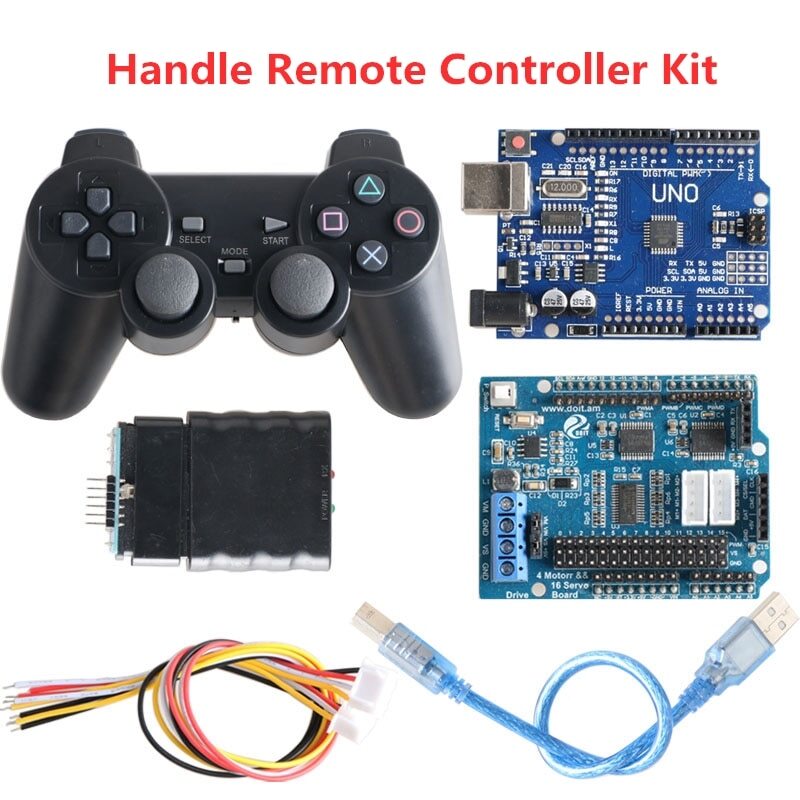 Multifunctional bracket: 4 pcs
Servo: 6 pcs
(MG996R servo)
M3*8 flat head screws: 60 pcs
M3*12 flat head screws: 60 pcs
Send 2 pcs servo extension cables
A set WiFi/Bluetooth/PS2 control kit (optional)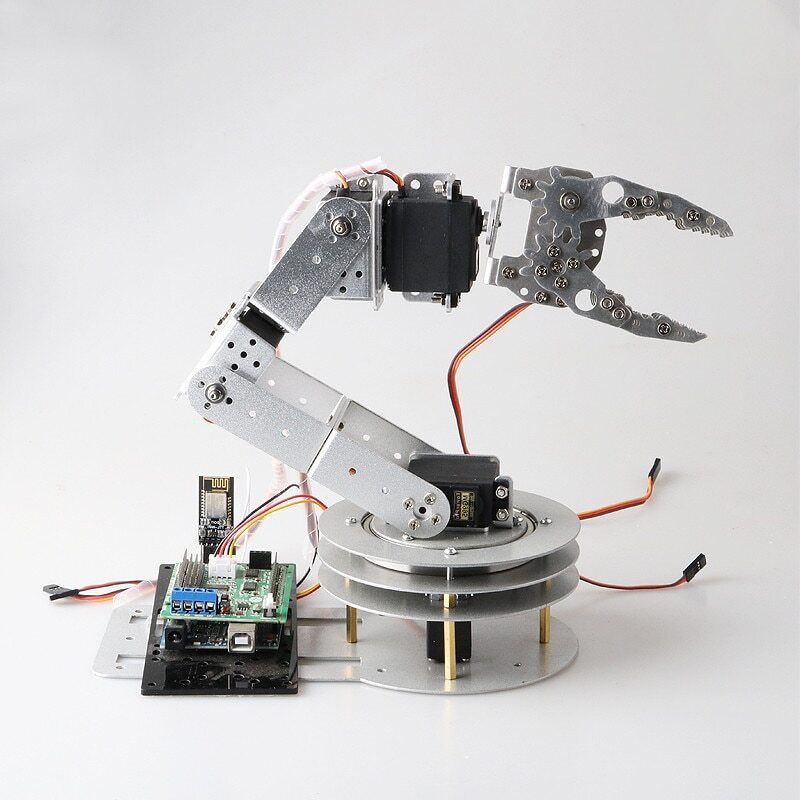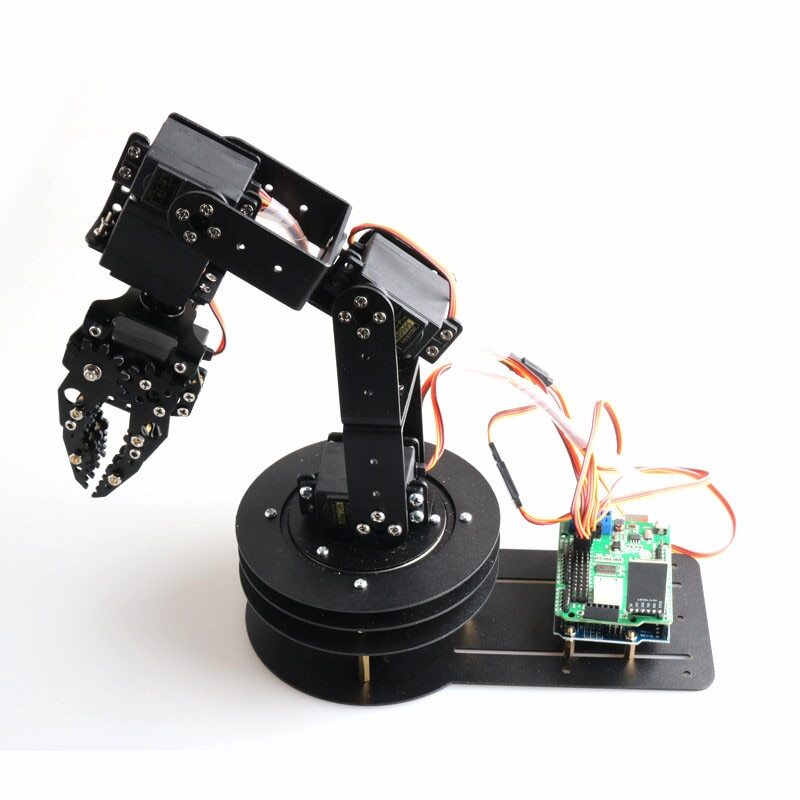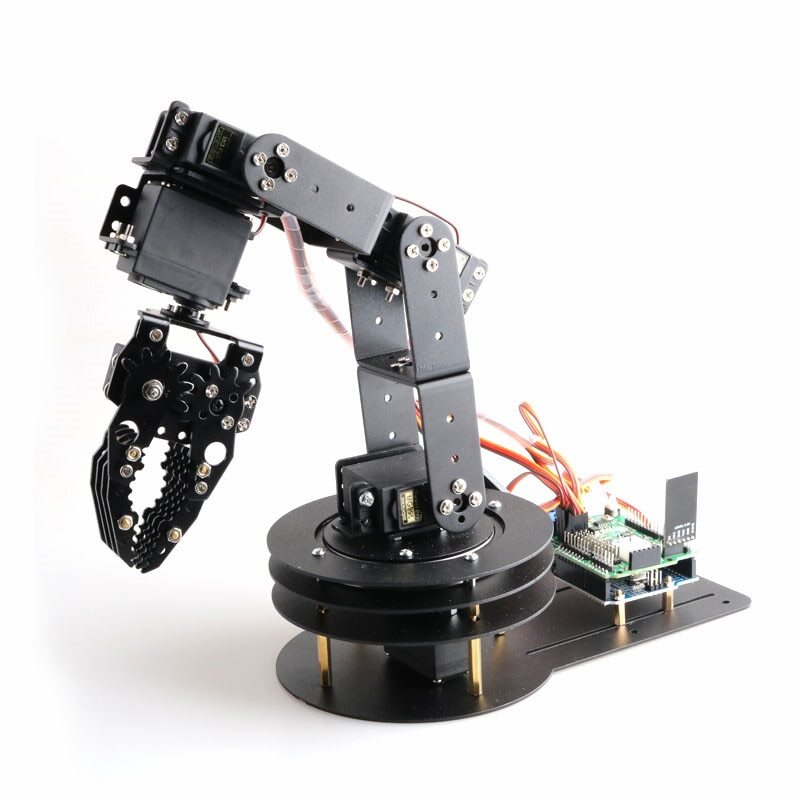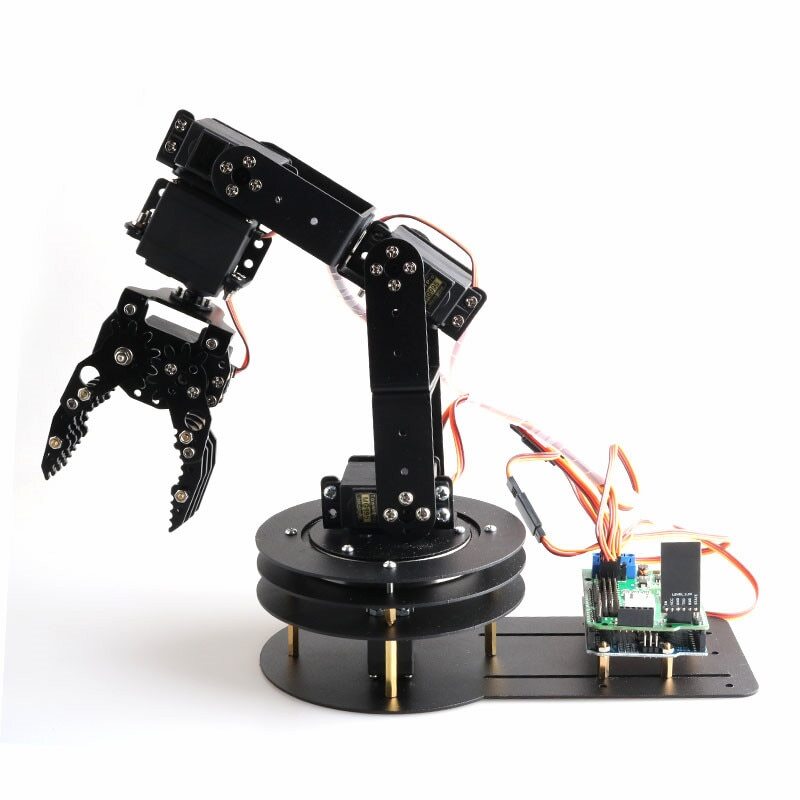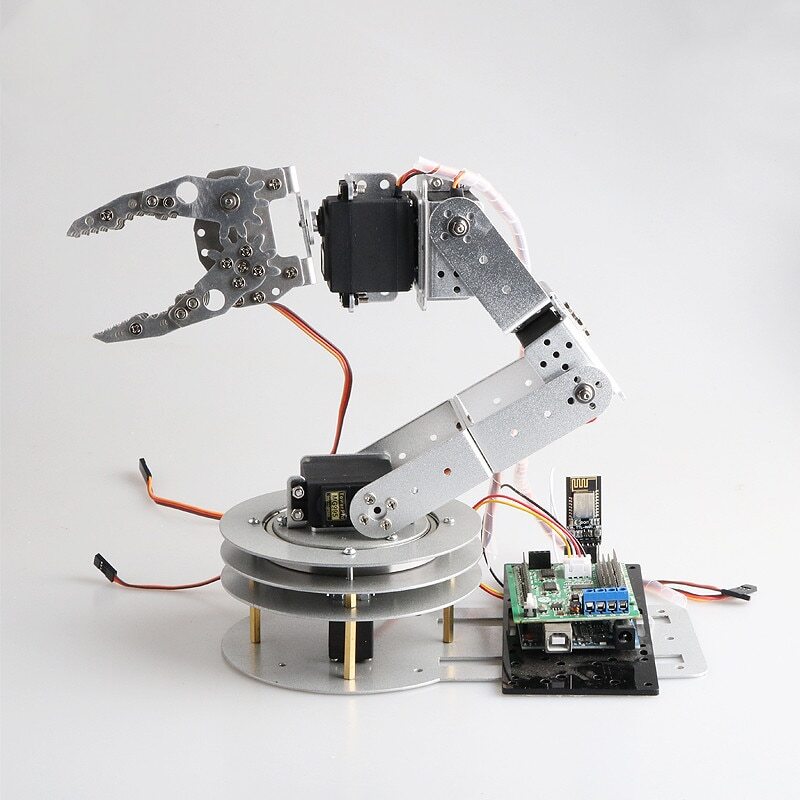 1. Due to computer monitor and the actual shooting brightness and other reasons, there will be
a certain color difference.
The final color please refer to our actual goods. Please know this before you buy it. Thank you !
2. The picture we show is 
100% Real
 Object Photography.
3. The size may have 
2-3cm
 d

iffers due to the maunal measurement.
4. For  the shipping convenience, the product is 
unassembled
.

1. Preparing Time: we need 2-5 working days to prepare your order according to our numerous orders every day.
2. Free Shipping for worldwide if you choose China Post.

Note:
The information of new tracking number for China Post Ordinary Small Packet Plus can not be tracked when it is shipped out of China. Whether it is arrived or not,it will no more tracking information.
Please choose China Post Air Mair if you want a full tracking information.
Tracking information of China Post Ordinary Small Packet Plus can be checked here: www.17track.net.

1. If you are satisfied with our products and services, please leave your positive feedback and 5 stars, and 5 stars for the detailed rating of your order. Once you show us the screenshot of both 5 stars, we will give you $3 DISCOUNT for each order over $50 in your later purchase.
2. If you share our product link on your SNS or Facebook, we will give you $3 DISCOUNT for each order over $50 in your later purchase as well.
3. If you are not satisfied with our products, pls contact us before you leave neutral (3 stars) or negative (1-2 stars) feedback. We guarantee we will 100% slove any problem for you.
4. Please email to us before leaving the negative feedback or opening any dispute on the site. Communication is the best way to solve the problems.