DOIT easy use DT-06 Wireless WiFi Serial Port Transparent Transmission Module similar Bluetooth HC-06 TTL to WiFi diy rc toy
Item specifics
Upgrade Parts/Accessories:
Arm
Use:
Vehicles & Remote Control Toys
Technical parameters:
Value 2
Remote Control Peripherals/Devices:
Battery
Four-wheel Drive Attributes:
Assemblage
Description

TTL-WiFi is designed and developed based on ESP-M2 WiFi module from our company Shenzhen Doctors of Intelligence & Technology Co., Ltd., which is extracted the TTL, EN, STATE and other pins. Importantly, the TTL-WiFi is already built-in the serial transparent transmission firmware programmed by our company (SZdoit), which can realize the transparent transmit the data to the cloud on the real-time, together with low-power control, status indictor. This board can replace the old wiring serial WiFi device to realize the data collection and control.

 

More details, please visit: https://www.gitnova.com/dt-06-ttl-to-wifi/  (there are lots of documents and usage here)

​Fully compatible with the original electrical interface and physical interface for the serial transparent Bluetooth;

Built-in the industrial transparent transmission firmware V3.0 with stability and reliability by using the Web Configuration;

Built-in the high performance WiFi module ESP-M2 with size: 34mm*17mm*4mm;

Working voltage: 4.5V~6.0V, TTL working voltage: 3.3V (compatible with 5.0V);

Provided pins: STATE, TXD, RXD,EN;

Average current: 80mA; when data sent, it is 170mA; but it is 20μA at deep sleep mode;

Support serial AT command;

Support re-programmable, OTA firmware update;

Seamless transparent transmission between serial and WiFi;

Built-in HTTP Web Server, support configure parameters by web page;

Support re-connect automatically at WiFi STA mode and TCP Client;

Support set baud rate, data bit, parity check, stop bits, and/or subcontracting time;

Support baud rate (bps): 300/600/1200/2400/4800/9600/19200/38400/57600/74800/115200/230400/460800/921600/1843200/3686400;

Support AP enable, self-defined SSID/password, self-defined IP and network duration;

Automatically scan the peripheral WiFi hotspot, support STA enable,DHCP, self-defined IP;

Support TCP Server, TCP Client, UDP Server, UDP Client and UDP local broadcast;

Support DNS resolution automatically for the remote sever address;

Support checking the status by AT command;

Provide IO4 to show the WiFi status;

Working temperature: -40℃-125℃;

Applications: smart home, wireless data connection and transparent transmission, smart car control, wireless serial printer, LED light industrial control etc.
The Structure of TTL-WiFi: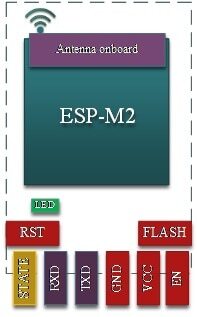 The interface definition of TTL-WiFi: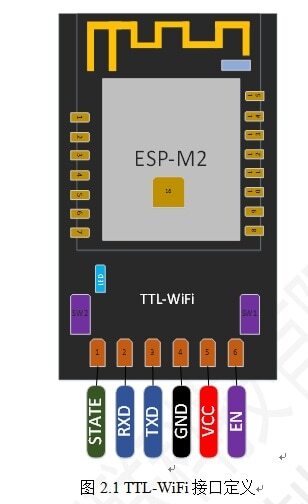 Usage of Web configuration:
  This module is already built-in the HTTP Server. Thus, it can configure the parameters by the browsers on pc or mobile phone or other smart devices, without of need of any other tools or Apps. In the factory settings, the module works at AP mode, and the signal is "Doit_WiFi_xxxxxx" , where,  "xxxxxx" is the last 6 number of MAC address of this module.  Then, one can connect this WiFi hotspot by PCs or phones , and other smart deveices (supportable Android and Ios, Windows) with no password.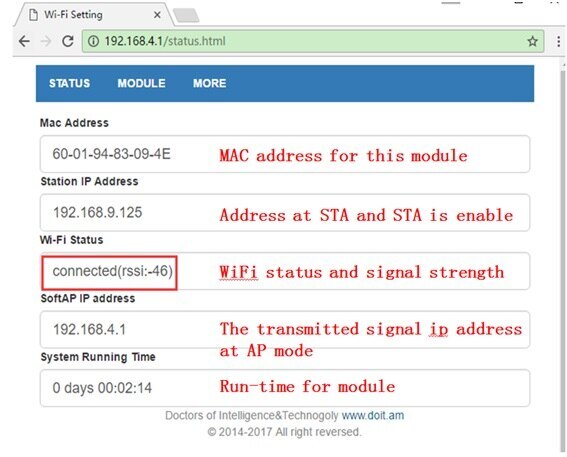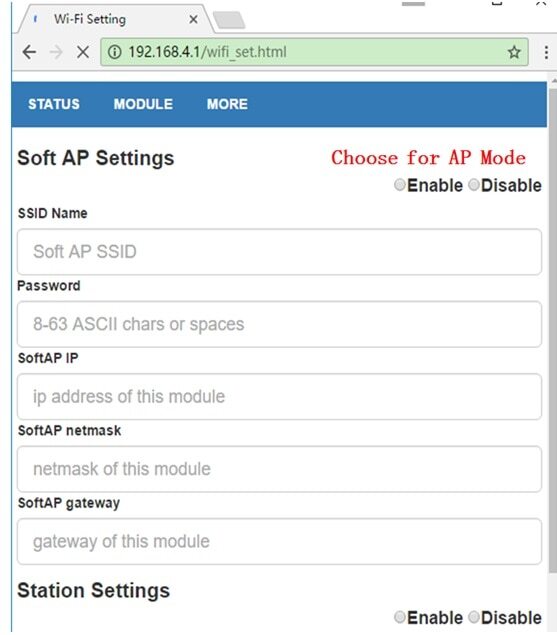 WiFi Configuration-AP mode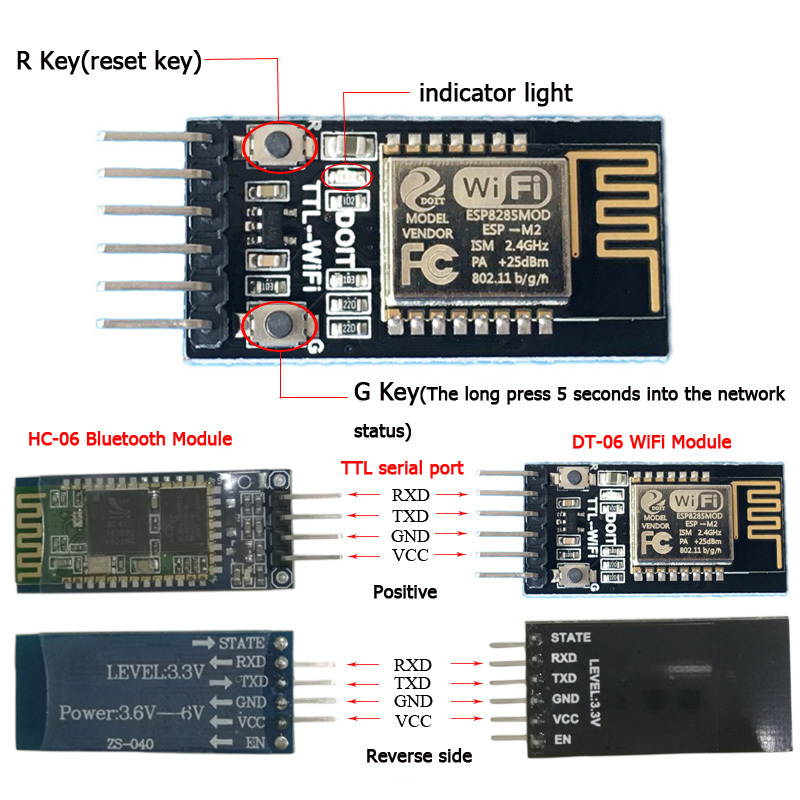 1. Due to computer monitor and the actual shooting brightness and other reasons, there will be a certain color difference.
The final color please refer to our actual goods. Please know this before you buy it. Thank you !
2. The picture we show is 100% Real Object Photography.
3. The size may have 2-3cm differs due to the maunal measurement.
4. For  the shipping convenience, the product is unassembled.

1. Preparing Time: we need 2-5 working days to prepare your order according to our numerous orders every day.
2. Free Shipping for worldwide if you choose China Post.

Note:
The information of new tracking number for China Post Ordinary Small Packet Plus can not be tracked when it is shipped out of China. Whether it is arrived or not, it will no more tracking information.
Please choose China Post Air Mair if you want a full tracking information.
Tracking information of China Post Ordinary Small Packet Plus can be checked here: www.17track.net.

1. If you are satisfied with our products and services, please leave your positive feedback and 5 stars, and 5 stars for the detailed rating of your order. Once you show us the screenshot of both 5 stars, we will give you $3 DISCOUNT for each order over $50 in your later purchase.
2. If you share our product link on your SNS or Facebook, we will give you $3 DISCOUNT for each order over $50 in your later purchase as well.
3. If you are not satisfied our products, pls contact us before you leave neutral (3 stars) or negative (1-2 stars) feedback. We guarantee we will 100% slove any problem for you.
4. Please email to us before leaving the negative feedback or opening any dispute on the site. Communication is the best way to solve the problems.