HomeKit Dimmable LED Light Bulb 9W E27 WiFi Smart Timer Lamp RGB+CW+WW Colored Bulbs 110V 220V Work With Alexa Google Apple Siri
0
stars, based on
0
reviews
Price:
$29.19$5.89 / piece
Order Processing Time: This item will be shipped out within 3 working days |
FREE SHIPPING
Bundle

Support HomeKit
Without HomeKit
Color
Item specifics
Model Number:
HomeKit Smart Bulb
Voltage:
90~250V AC, 50~60Hz
Color Temperature:
2700~6500K Warm white to Cool white
Wireless type:
WiFi 2.4GHz
Smartphone System:
iOS; android
APP Name:
Apple Home APP; CozyLife APP
Compatible:
HomeKit/Apple Siri/Alexa/Google Home /Yandex Alice /SmartThings/Home Assistant
Features:
Dimming, changing light color, timing, group control, remote control, voice control
Product Number:
E27 Bedroom Light Lamp
Item Name:
WiFi Dimmable Light
Item Number:
Timer Light Bulb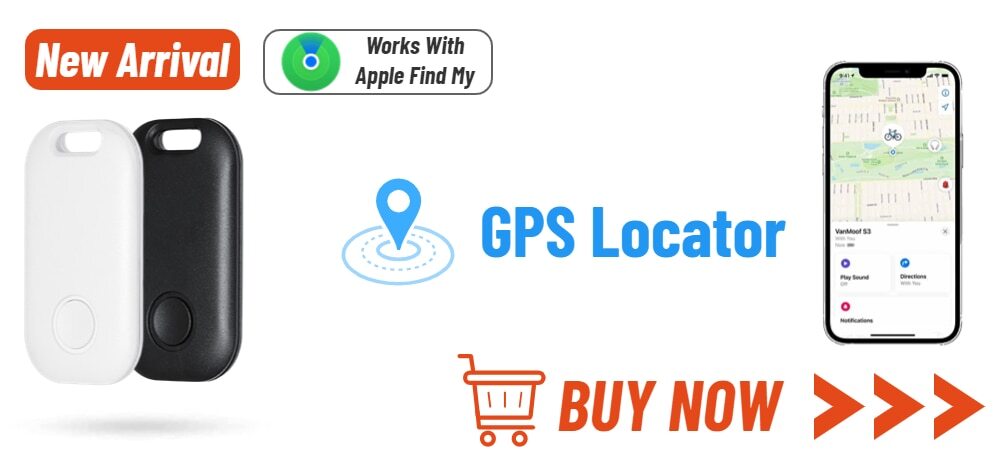 *There are two package options here. Which package "Without HomeKit", it does not support HomeKit, Apple Home APP and Siri
Features
【Supports Apple HomeKit】 It can works with HomeKit products all over the world to achieve scene linkage. Remotely control the device through WiFi2.4G, the connection is reliable, and it is not easy to offline.

【App Remote Control】It can customize the light color, brightness, color temperature, etc. through the Apple Home APP / CozyLife APP , set a schedule according to living habits, or turn off all smart lights with one Tap, etc. Even if you're not at home, you can control your smart light bulb remotely directly from your mobile APP. It still works with the original traditional panel switches

【Voice Control】Control the on /off, color, brightness, etc. of smart bulbs by issuing voice commands; Compatible with the following mainstream platforms Alexa Echo, Google Home, Yandex Alice, Apple Siri, SmartThings, Home Assistant

【Protect your eye health】 No glare, No buzzing noise, Without frequently-flash better for reading .It offers ample brightness (60W  equivalent, 850 lumens) and brings out true, vibrant colors (CRI85plus)
Parameter
Size: 60 * 115mm
Voltage : AC90~250V, Include 110V, 220V
Lamp Screw : E27
Power: 9W
color rendering Index : 85+
Brightness: 850 lumens
Color: RGB multi-colored
Color Temperature:
2700~6500K warm white to cool white
Life: more than 50,000 hours
Material: Al+PC
Wireless connections: Wi-Fi 2.4GHz
Control method :Smart control
App Name : Apple Home App ; CozyLife App
Phone system:iOS ; android
Package List
Smart Bulb * 1 piece
Applicable area
7~11 ㎡
Perfect for Lamps and Home Lighting
Feature 1 : Support Apple HomeKit
Support Apple HomeKit ,Reliable Connection , Many IoT chipsets on the market are provided by our company, and we have absolute professionalism and reliability in IoT smart homes. We pay more attention to compatibility and stable connectivity to bring you excellent experience for HomeKit users particularly.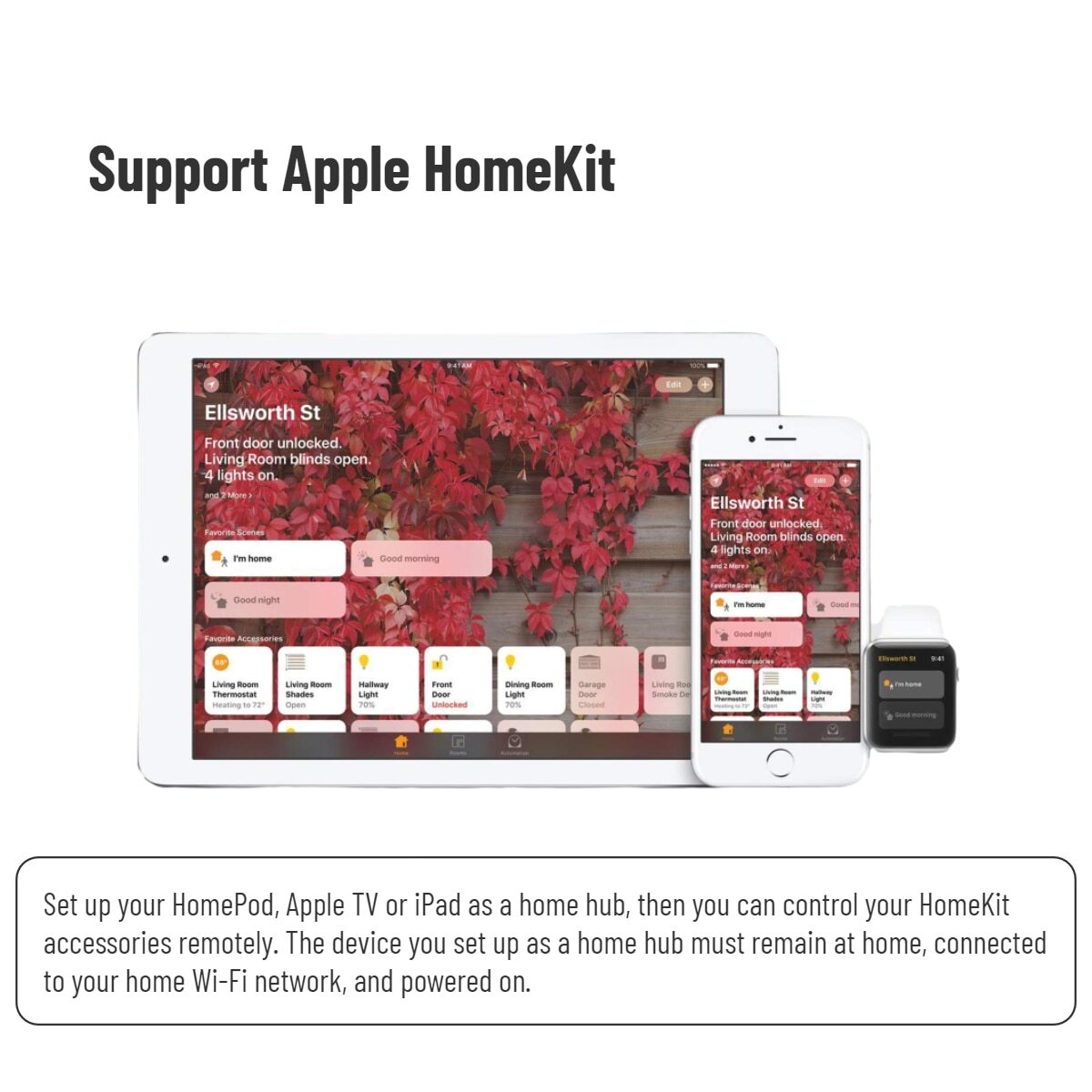 Feature 2 : APP Remote Control
APP Name : Apple Home APP ; CozyLife APP

● For Android users: CozyLife APP,To enable Remote control ,No Bridge Required

● For iOS users : Apple Home APP ; CozyLife APP ( Choose one to add a device )

*To enable Homekit remote control, you need a HomePod, an Apple TV 4K or Apple TV HD, or an iPad. Set any of these Apple devices in your house to be a HomeKit bridge and connect it to your home Wi-Fi network. Keep in mind that once your HomeKit bridge is set up, it has to be always online. If it is powered off or disconnected from the Wi-Fi, it will fail to respond when you intend to do remote control. For more information on how to set up your HomeKit bridge, please go to Apple HomeKit website to learn more.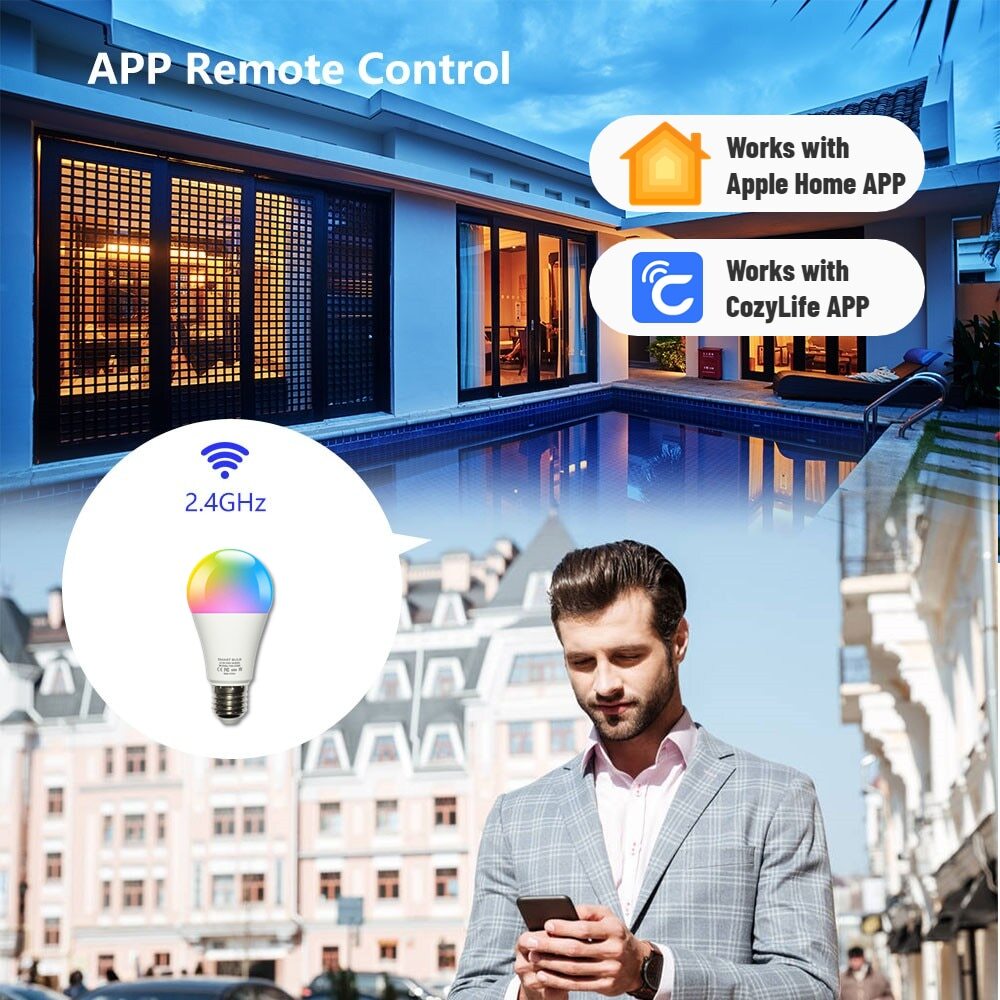 Feature 3 : Voice Control
Compatible with Apple HomeKit, Apple Watch, Siri, Alexa Echo, Echo dot, Google Assistant,Yandex Alice,Home Assistant and SmartThings.

Get hands free with a simple voice commands and make your life easier. Perfect for times when your hands are full or in a dark room.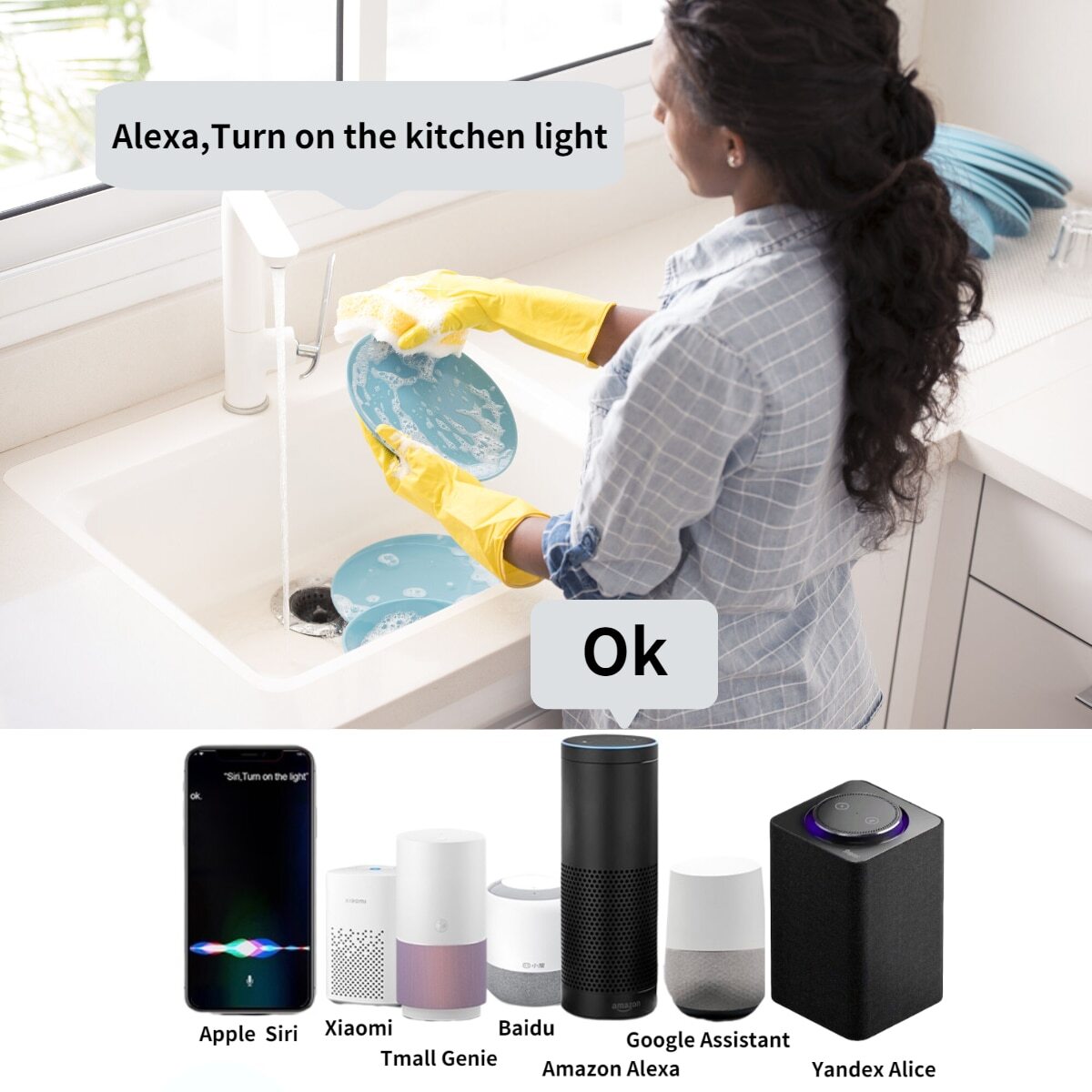 Feature 4 :RGB 16 million colors
Create any mood with 16 million colors. Set your desired colors create different ambience for party, dating, relaxing and other occasions via phone App.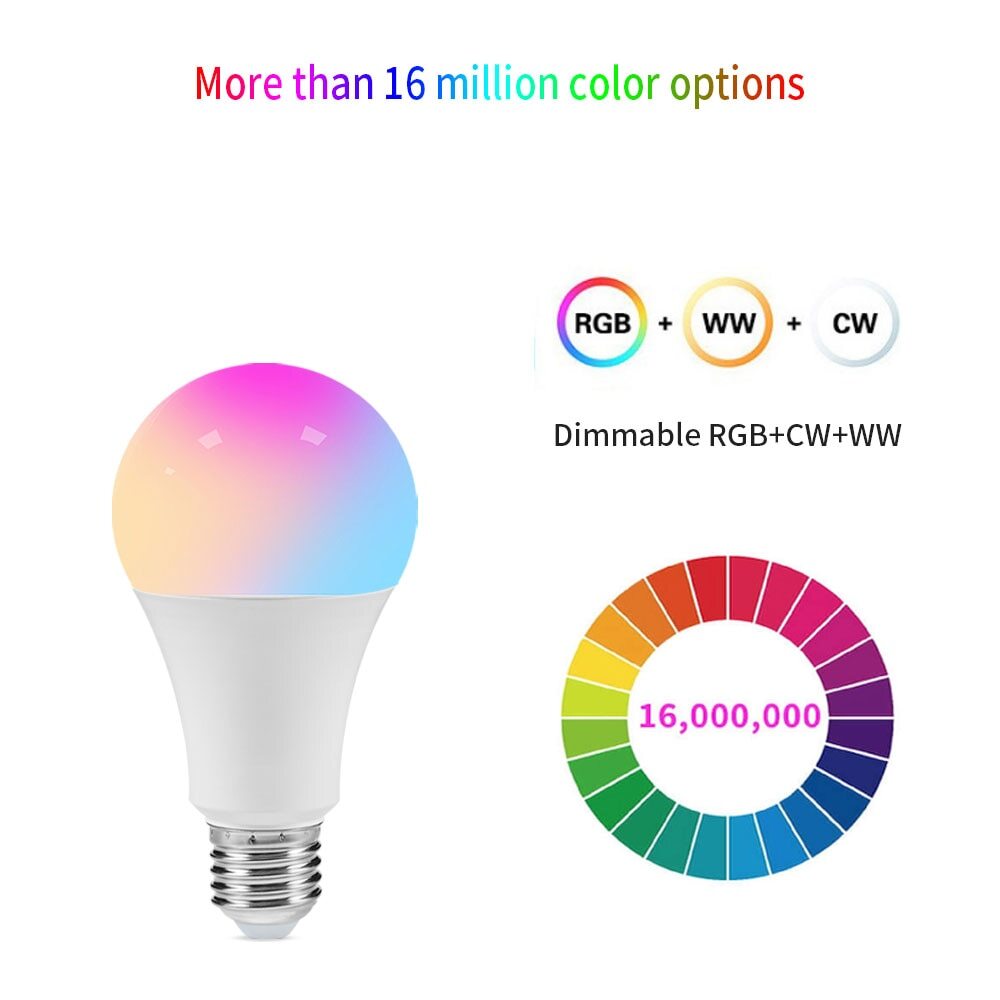 Feature 5:1%-100% Dimmable
Dimming range from 1% up to 100%, Dimmable helps you set the right brightness for any mood or activity such as kitchen light, reading light, living room light or bedroom lamp.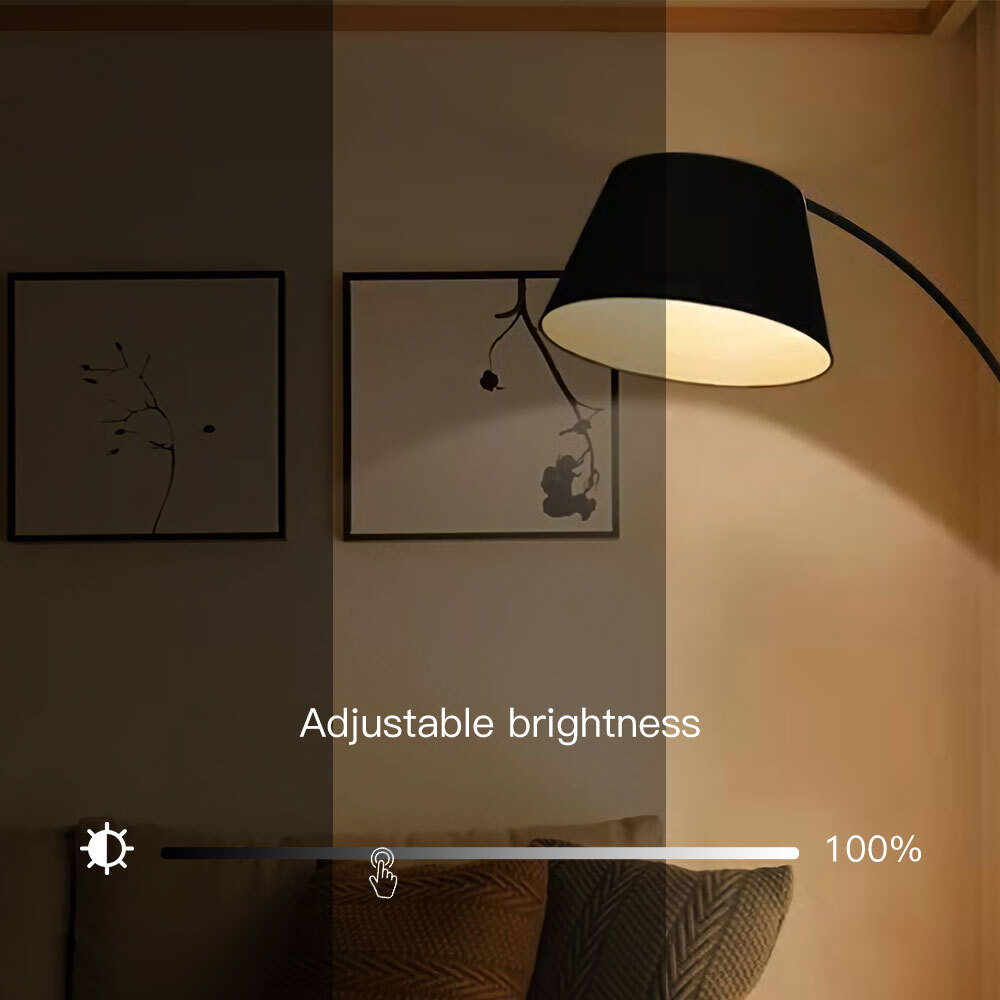 Feature 6:Warm white to Cool white 2700-6500K
Tunable White,The color temperature is adjustable from 2700K to 6500K so you can choose from soft warm white to daylight white.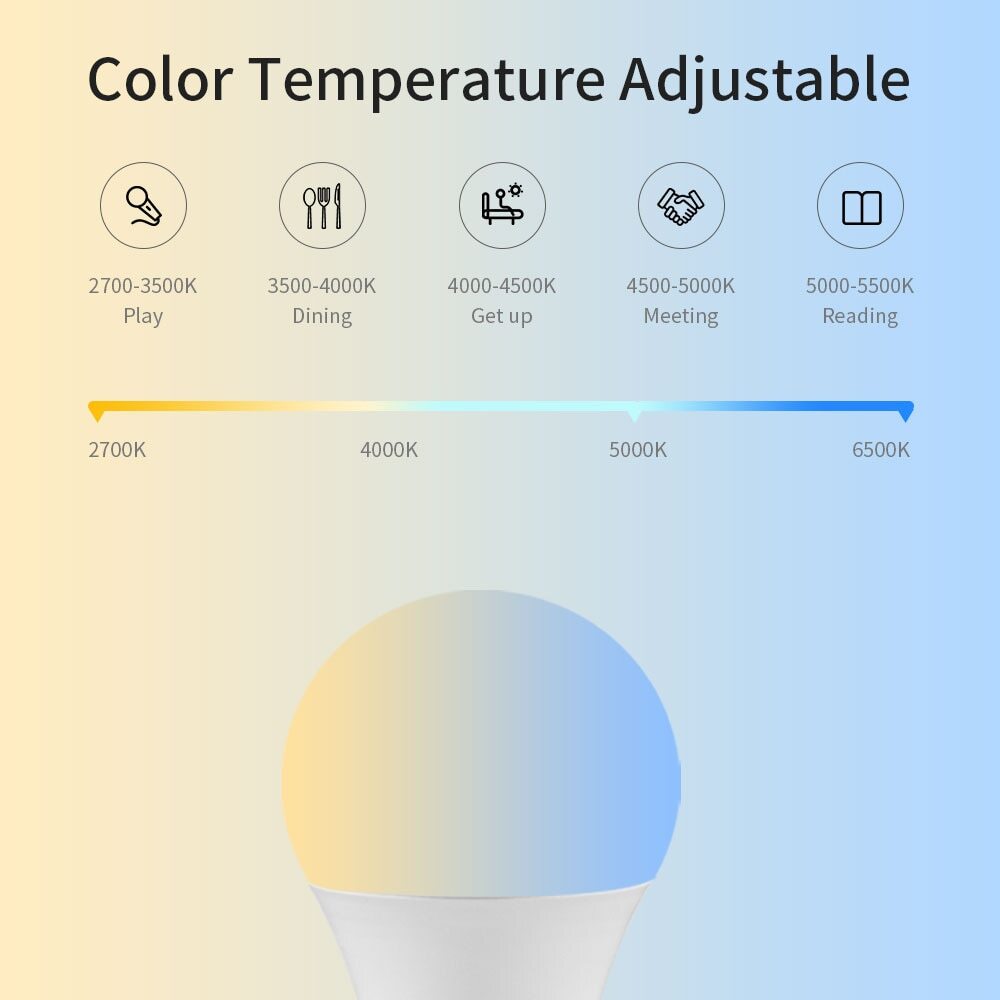 Feature 7: Timing, Countdown, Schedule
Set different schedules to turn on/off the smart light according to your daily routines to wake you up in the morning, welcome you back to home and never leave you in the darkness.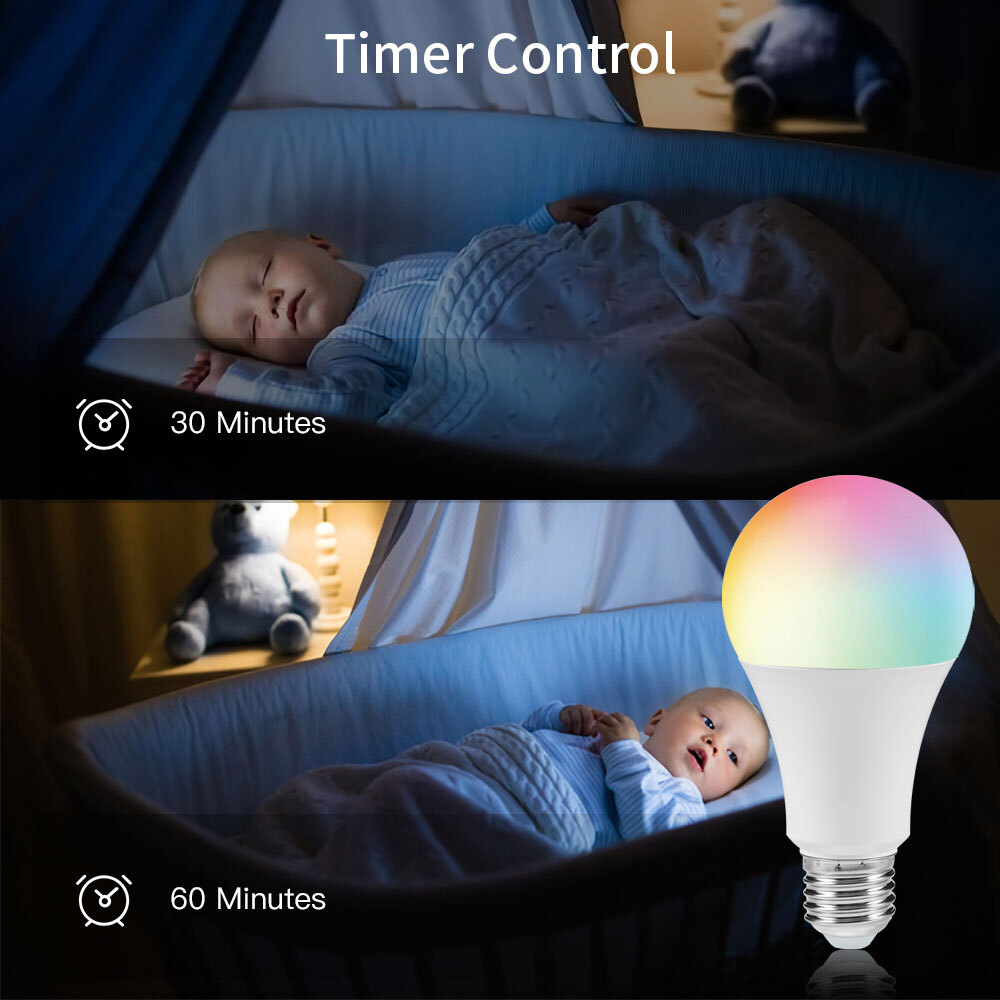 Feature 8: Individual/Group Control
All devices can be controlled individually or collectively, all light in the home can be adjusted. Smart devices make life easier.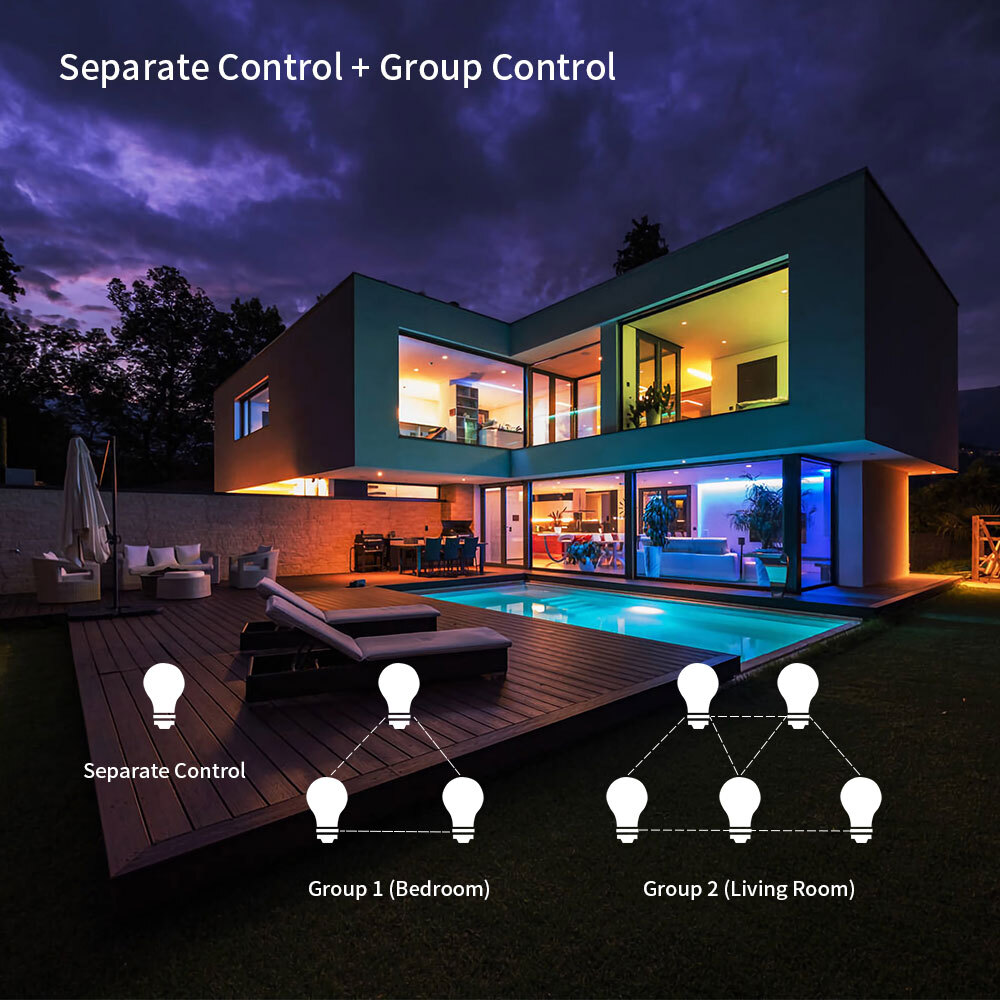 Feature 9: Sync With Music
The lights change with the rhythm of the music, perfect for parties.
Sync your lights to your favorite music allowing you to enjoy every beat. Transform any room into a dance floor with lights that dance with you and change colors to beat of the music.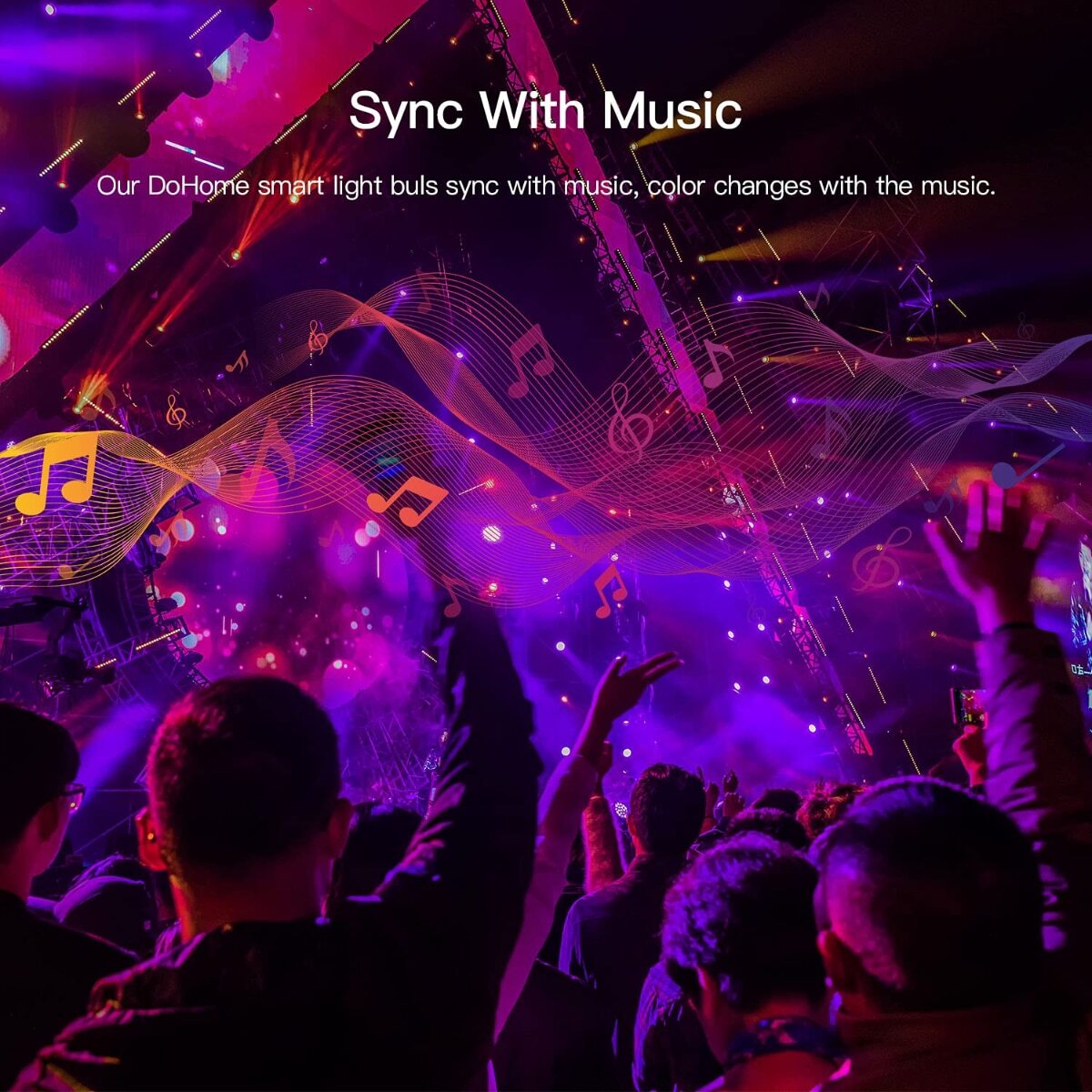 Applicable scene
Living Room, Bedroom, Kitchen, Balcony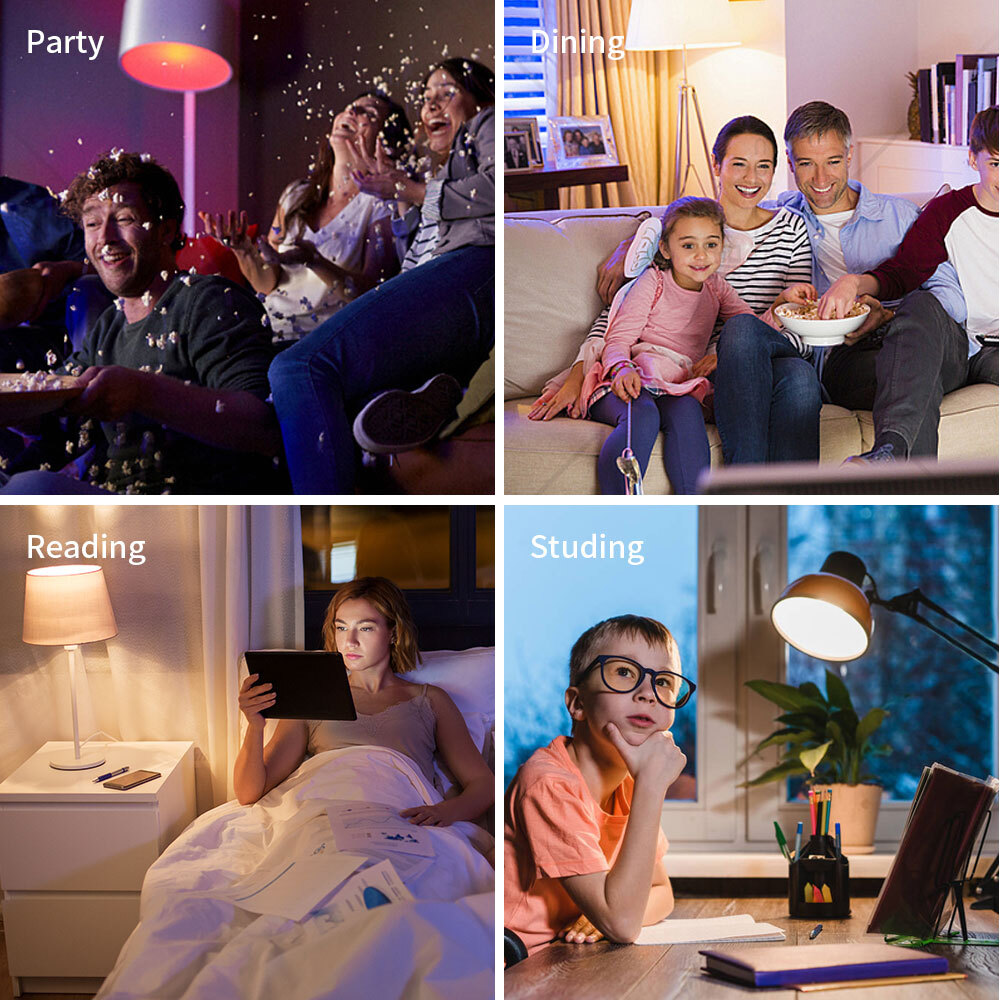 Product parameters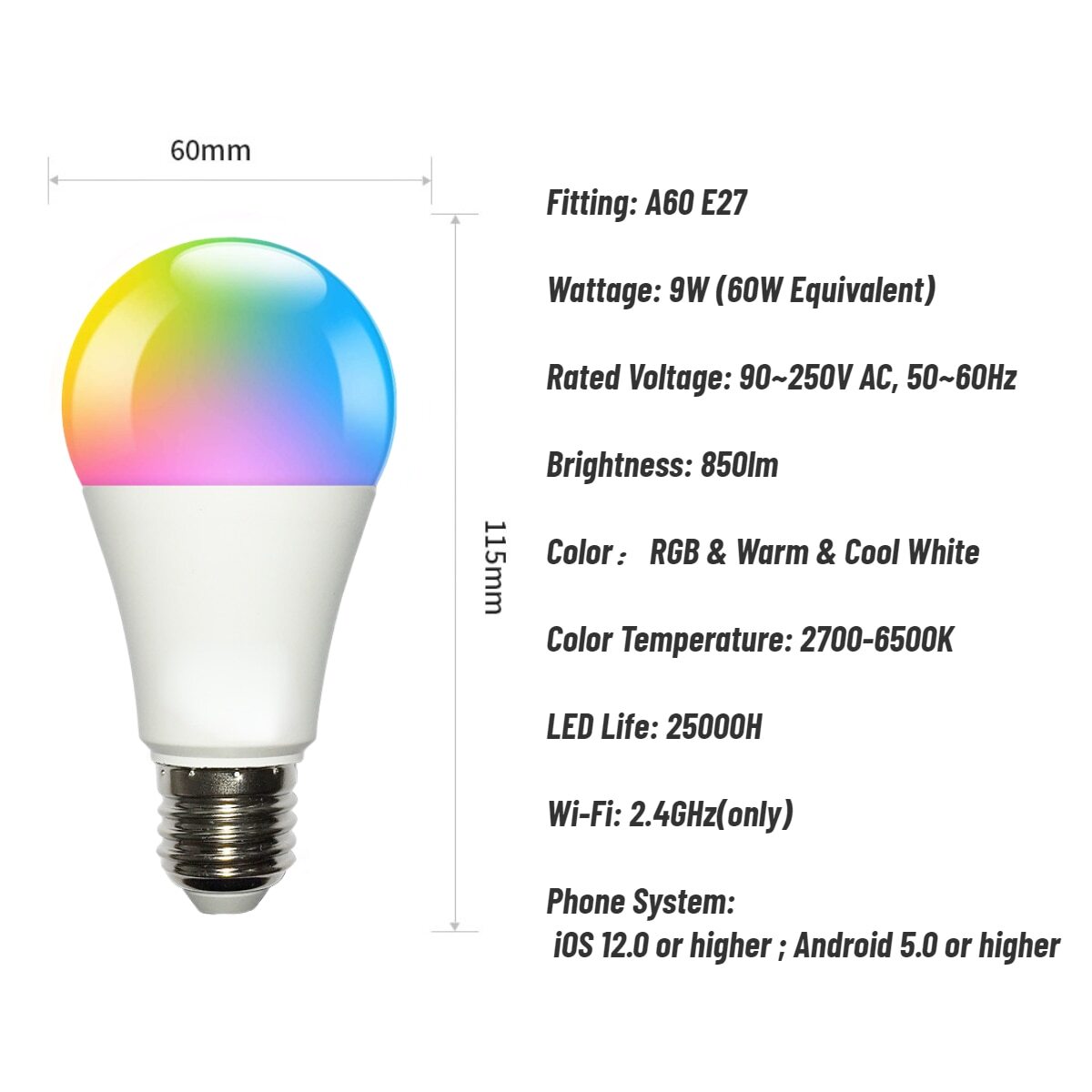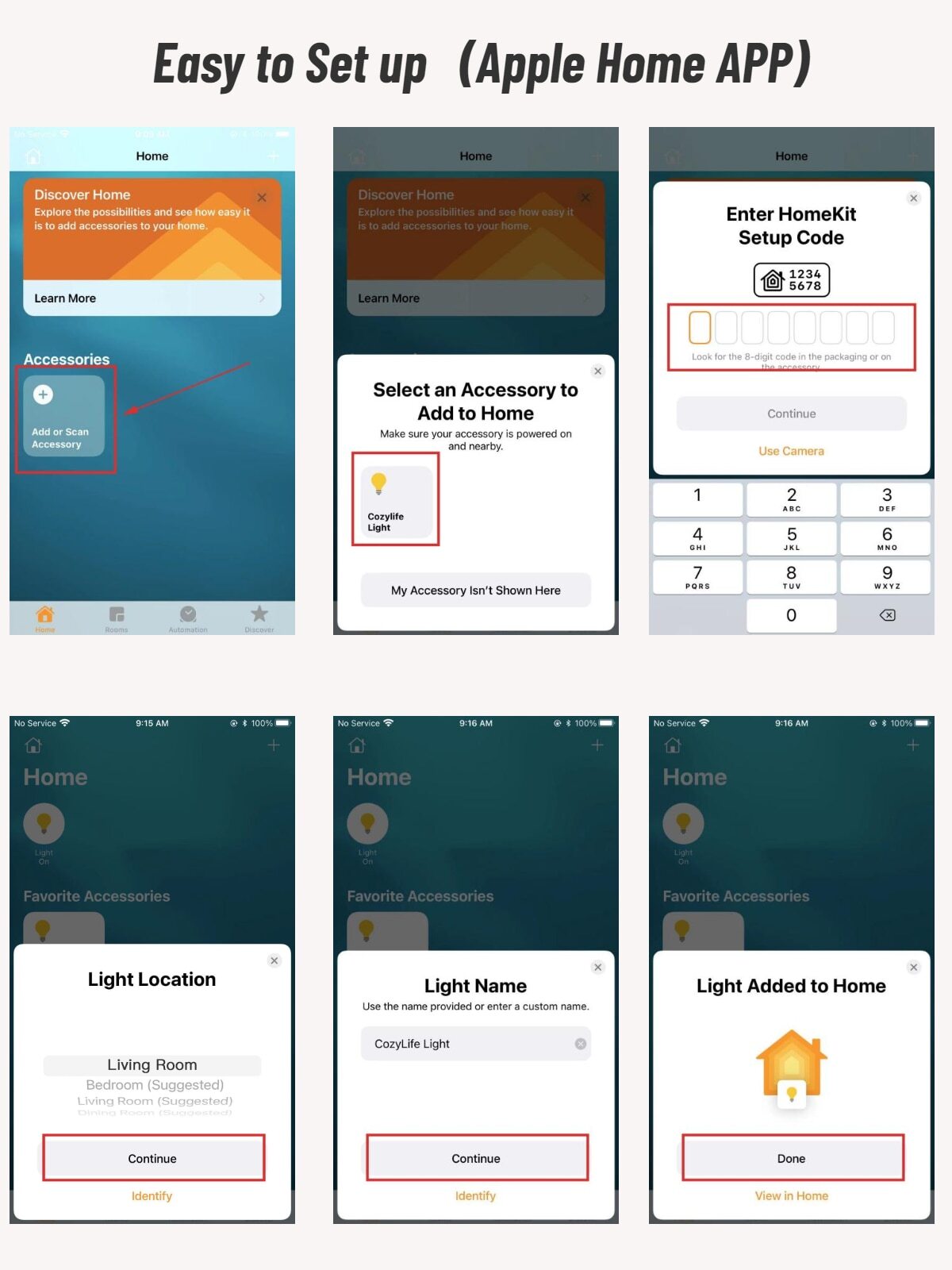 Top Q&A:
● Wi-Fi request
Connect your iPhone to 2.4GHz home Wi-Fi while setting up HomeKit. If you are having a Wi-Fi name for both your 2.4GHz and 5GHz Wi-Fi and it keeps fail during setup. Please turn off the 5GHz on your Wi-Fi router temporarily.

● Will the original wall switch work after installing the smart bulb?
Does not affect the normal use of the original wall switch (note: it does not support dimmer Light switches)

● What is the input voltage range supported by the bulb?
This bulb supports AC90~250V 50~60H input voltage

● Does the bulb support lamp switch with dimming knobs (such as desk lamps with dimming knobs, etc.)
It does not support

● What mobile phone models are smart bulbs compatible with?
Applicable to mobile phones with Android 4.4 and above or iOS9.0 and above, and with WiFi function

● Installation precautions for smart bulb?
1. When installing, removing or checking the device, please make sure the power is turned off.
2. Do not use in too humid environment
3. Do not use lamps with dimming knobs to avoid damage to the product