Item specifics
Upgrade Parts/Accessories:
Adapter
RC Parts & Accs:
Receivers
Use:
Vehicles & Remote Control Toys
Technical parameters:
Value 5
Remote Control Peripherals/Devices:
Receivers
Four-wheel Drive Attributes:
Assemblage
Product description:
The core processor of the ESP-M4 module uses the cost-effective chip ESP8285.

The chip integrates an enhanced version of Tensilica's L106 Diamond Series 32-bit core processor in a smaller package with on-chip SRAM.

The ESP8285 has a full Wi-Fi network function, which can be used independently or as a slave to other host MCUs.

When the ESP8285 hosts an application, it can be launched directly from external Flash.

The built-in cache helps improve system performance and optimizes the storage system.

In addition, the ESP8285 can be used as a Wi-Fi adapter via the SPI/SDIO interface or I2C/UART port for any microcontroller-based design.

The ESP-M4 module supports the standard IEEE 802.11 b/g/n/e/i protocol and the complete TCP/IP protocol stack.

Users can use this module to add networking capabilities to existing devices or to build separate network controllers.

The ESP-M4 module offers maximum practicality at the lowest cost, providing unlimited possibilities for Wi-Fi functionality to be embedded in other systems.
Main technical parameters of the module:
WI-FI parameters:
Frequency range: 2.4G~2.5G (2400M~2483.5M)

Transmit power: 802.11b: +20 dBm, 802.11g: +17 dBm, 802.11n: +14 dBm

Receive sensitivity: 802.11b: -91 dbm (11Mbps), 802.11g: -75 dbm (54Mbps), 802.11n: -72 dbm (MCS7)

Antenna: PCB onboard antenna
Hardware parameters:
CPU: Tensilica L106 32 bit microcontroller

Peripherals: UART/SDIO/SPI/I2C/I2S/IR remote control; GPIO/ADC/PWM/SPI/I2C/I2S

Working voltage: 2.5V ~ 3.6V

Working current: average current: 80 mA

Working temperature: -40 ° C ~ +125 ° C

Ambient temperature range: -40°C ~ +125°C

Package size: 16mm x 24mm x 3mm
Software parameters:
Wi-Fi mode: Station/SoftAP/SoftAP+Station

Security mechanism: WPA/WPA2

Encryption type: WEP/TKIP/AES

Upgrade firmware: UART Download/OTA (via network)

Software development: Non-RTOS/RTOS/Arduino IDE, etc.

Network protocol: IPv4, TCP/UDP/HTTP/FTP/MQTT

User Configuration: AT+ Instruction Set / Cloud Server / Android / iOS APP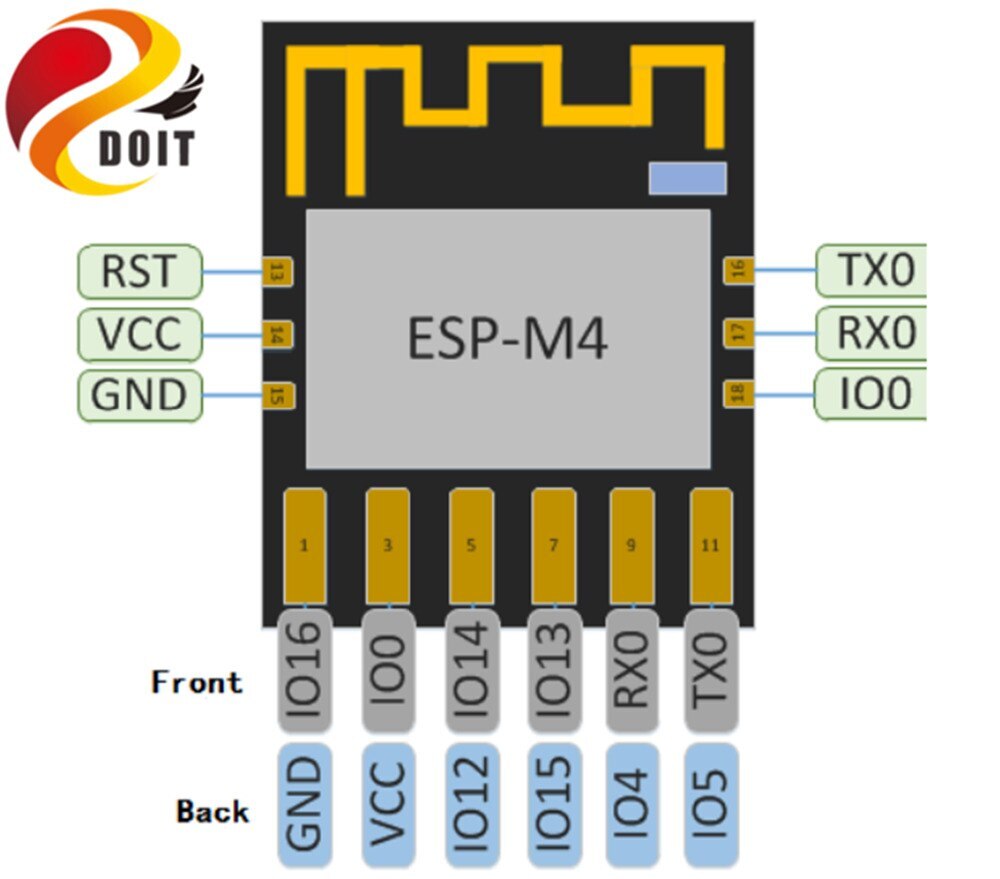 Note:
The module supply voltage is 3.3V DC and the current is 500mA or more;

Wi-Fi module IO maximum output current is 12mA;

Wi-Fi module NRST pin is active low; EN enable pin is active high;

The Wi-Fi module enters the upgrade mode: GPIO0 is at a low level, then the module is reset and powered on; the Wi-Fi module enters the normal working mode: GPIO0 is at a high level, and the module is reset and powered.

The RXD of the Wi-Fi module is connected to the TXD of the external MCU, and the TXD of the Wi-Fi module is connected to the RXD of the external MCU;

More documents can be downloaded at wiki.doit.am.
Shipping list:
5 pieces wifi modules (1 lot)