SZDOIT 1 Lot/5 Pieces ESP32-WROOM-32 Module Wireless Wifi Module Development Board Compatible With ESP-32s/ESP-32 For Arduino
0
stars, based on
0
reviews
Price:
$25.00$25.00 / piece
Order Processing Time: This item will be shipped out within 3 working days |
FREE SHIPPING
Item specifics
Upgrade Parts/Accessories:
Adapter
RC Parts & Accs:
Connectors/Wiring
Use:
Vehicles & Remote Control Toys
Technical parameters:
Value 5
Remote Control Peripherals/Devices:
Remote Controller
Four-wheel Drive Attributes:
Assemblage
Features:
The ESP-WROOM-32 module is a universal WiFi-BT-BLE MCU module that is powerful and versatile, and can be used in low-power sensor networks and extremely demanding tasks such as voice coding, audio streaming and MP3.

Decoding and so on.

The core of this module is the ESP32 chip, which is scalable and adaptive.

The two CPU cores can be individually controlled or powered up.

The clock frequency can be adjusted from 80 MHz to 240 MHz.

The user can power off the CPU and use a low-power coprocessor to constantly monitor the state change of the peripheral or whether certain analogs exceed the threshold.

The ESP-WROOM-32 module also integrates a wide range of peripherals including capacitive touch sensors, Hall sensors, low noise sense amplifiers, SD card interfaces, Ethernet interfaces, high speed SDIO/SPI, UART, I2S and I2C.

.

ESP-WROOM-32 module hereinafter referred to as ESP32.

The ESP-32 integrates traditional Bluetooth, low-power Bluetooth and Wi-Fi for a wide range of uses: Wi-Fi supports a wide range of communication connections and direct Internet connection via a router; Bluetooth allows users to connect to mobile phones or broadcast

BLE Beacon for signal detection.

The ESP32 chip's sleep current is less than 5uA, making it suitable for battery-powered wearable electronics.

The ESP-32 supports data transfer rates of up to 150 Mbps and, with a power amplifier, delivers up to 22 dBm of output power for a wide range of ZUI wireless communications.

Therefore, this chip has industry-leading technical specifications and has a good performance in terms of high integration, wireless transmission distance, power consumption and network connectivity.

The ESP32 operating system is a freeRTOS with LWIP and also has built-in TLS 1.2 with hardware acceleration.

The chip also supports OTA encryption upgrades, and developers can continue to upgrade after the product is released.
Product specifications:
Wifi:
Standard: FCC/CE/TELEC/KCC

Protocol: 802.11 b/g/n/d/e/i/k/r (802.11n, speed up to 150 Mbps);

A-MPDU and A-MSDU aggregation, support 0.4us guard interval

Frequency range: 2.4~2.5 GHz
Bluetooth:
Protocol: compliant with Bluetooth v4.2 BR/EDR and BLE standards

RF: NZIF receiver with -98 dBm sensitivity; Class-1, Class-2 and Class-3 transmitters; AFH

Audio: CVSD and SBC Audio
Hardware:
Module interface: SD card, UART, SPI, SDIO, I2C, LED PWM, motor PWM, I2S, I2C, IR; GPIO, capacitive touch sensor, ADC, DACLNA preamplifier

On-chip sensor: Hall sensor, temperature sensor

On-board clock: 26 MHz crystal, 32 kHz crystal

Working voltage: 2.2~3.6V

Working current: average: 80 mA

Operating temperature range: -40 ° C ~ +85 ° C

Ambient temperature range: normal temperature

Package size: 18 mm x 20 mm x 3 mm
Software:
Wi-Fi mode: Station/softAP/SoftAP+station/P2P

Security mechanism: WPA/WPA2/WPA2-Enterprise/WPS

Encryption type: AES/RSA/ECC/SHA

Firmware upgrade: UART download / OTA (download and write firmware via network / via host)

Software Development: Support for Cloud Server Development/SDK for User Firmware Development

Network Protocol: IPv4, IPv6, SSL, TCP/UDP/HTTP/FTP/MQTT

User configuration: AT+ instruction set, cloud server, Android/iOS APP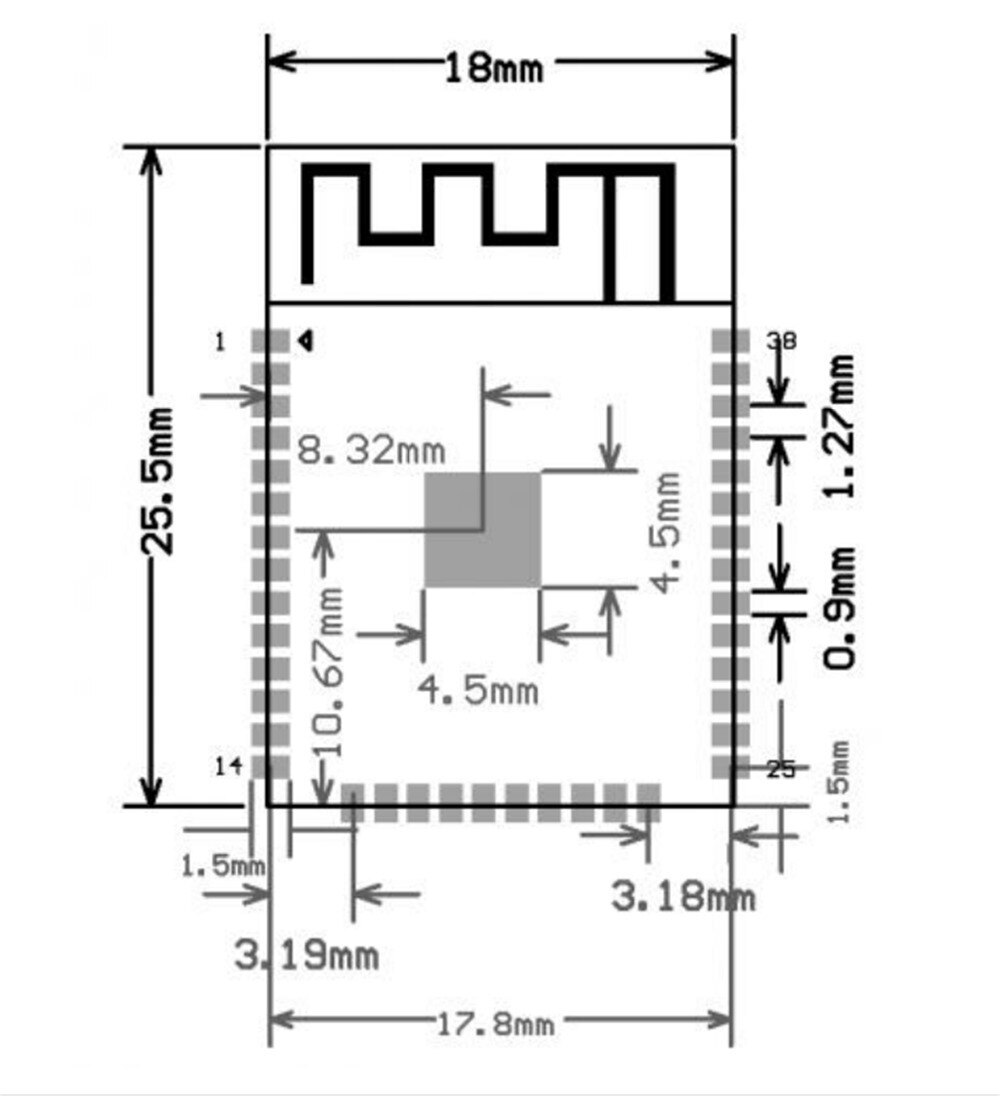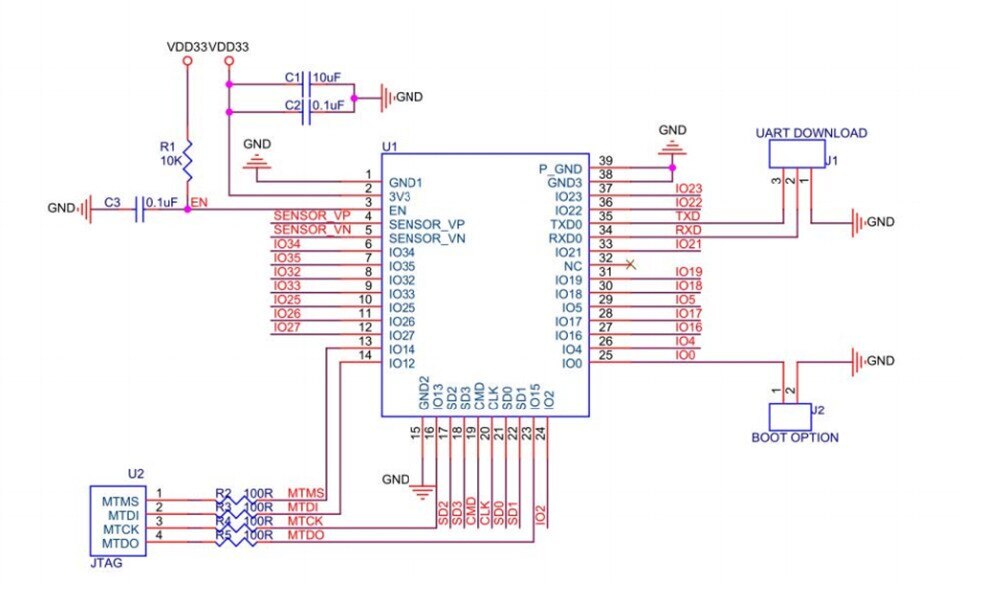 Shipping list:
1 lot wifi module (5 pieces)