Item specifics
Material:
Composite Material
Technical parameters:
Value 4
Remote Control Peripherals/Devices:
Remote Controller
Use:
Vehicles & Remote Control Toys
Upgrade Parts/Accessories:
Adapter
Four-wheel Drive Attributes:
Motors
RC Parts & Accs:
Receivers
Parameters:
Module name: double H bridge motor drive module

Main control chip: L298N

Working mode: H-bridge drive (two-way)

Logic voltage: 5V

Driving voltage: 5-35V

Logic current: 0-36mA

Drive current: 2A (MAX single bridge)

Storage temperature: -20 ° C ~ +135 ° C

Maximum power: 25W

Peripheral size: 43*43*27mm

Weight: 30g
Features:
This module uses ST company's L298N as the main driver chip, featuring strong driving capability, low heat generation and strong anti-interference ability.

This module can use the built-in 78M05 to take power through the drive power supply part, but in order to avoid damage to the voltage regulator chip, when using a drive voltage greater than 12V, please use an external 5V logic power supply.

This module uses a large-capacity filter capacitor and a freewheeling protection diode to improve reliability.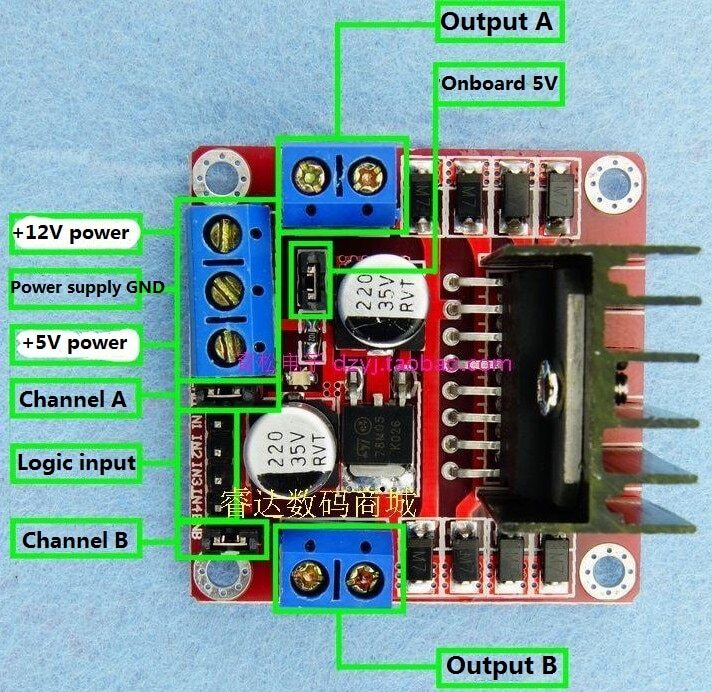 Precautions:
When your drive voltage (the above figure is 12V input, the actual acceptable input range is 7-12V) is 7V-12V, you can enable the onboard 5V logic supply, when using the onboard 5V power supply, the interface

Do not input voltage to the +5V supply, but can draw 5V for external use.

(This is a regular application!)

When the driving voltage is higher than 12V, less than or equal to 24V (the chip manual can support up to 35V, but according to experience, 298 conservative application of maximum voltage support to 24V is very great!), for example, to drive a motor with a rated voltage of 18V.

First, the jumper cap with the onboard 5V output enable must be removed.

Then access 5V outside the 5V output port

5V enable is a 5V control signal. When this signal input is valid and the power supply in the motor drive module is normal, the motor drive module outputs current.

Otherwise, there is no current on the motor even if the power supply is normal.

The voltage supplies power to the L298N internal logic circuit.

(This is a non-conventional application of high voltage drive!)
Shipping list: