SZDOIT ESP-12E 2.4Ghz Wifi Module ESP8266 Serial Port Transmission Module With Burning Board Test Stand Development Board Kit
0
stars, based on
0
reviews
Price:
$3.60$3.60 / piece
Order Processing Time: This item will be shipped out within 3 working days |
FREE SHIPPING
Color

1pcs wifi module
5pcs wifi modules
A set with Micro-ESB
A set with Type-C
Item specifics
Upgrade Parts/Accessories:
Adapter
RC Parts & Accs:
Receivers
Use:
Vehicles & Remote Control Toys
Technical parameters:
Value 5
Remote Control Peripherals/Devices:
Receivers
Four-wheel Drive Attributes:
Assemblage
Features:
The ESP-12E WiFi module is a low-power, cost-effective embedded wireless network control module.

It can meet the needs of IoT applications such as smart grid, building automation, security, smart home, and telemedicine

The module's core processor, the ESP8266, integrates the industry-leading Tensilica L106 ultra-low-power 32-bit micro-MCU in a small package with 16-bit thin mode, supporting 80 MHz and 160 MHz, supporting RTOS, and integrating Wi

-Fi MAC/ BB/RF/PA/LNA, onboard antenna.

The module supports the standard IEEE802.11 b/g/n protocol, a complete TCP/IP protocol stack.

Users can use this module to add networking capabilities to existing devices or to build separate network controllers.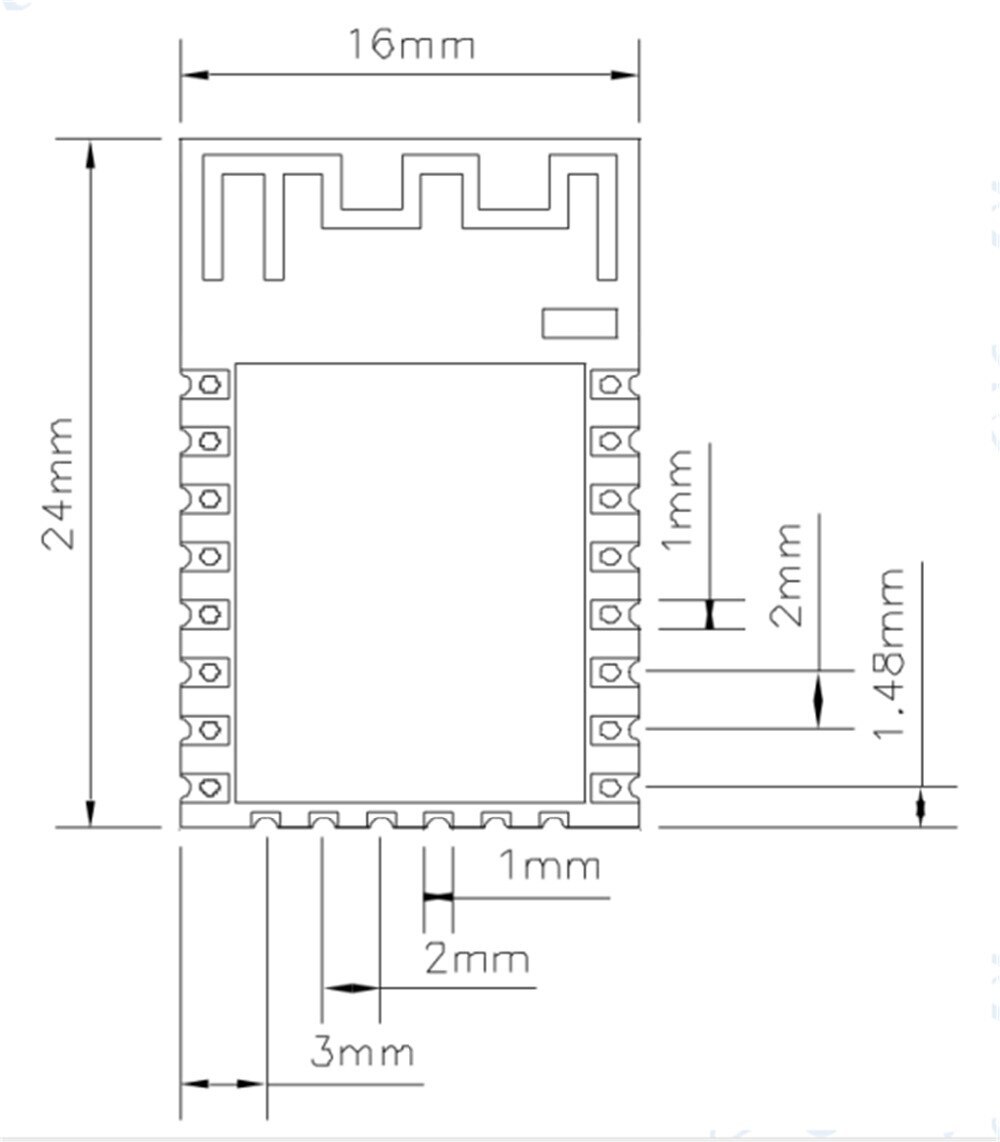 Hardware parameter:
Operating voltage: 3.3V (3.0 ~ 3.6V)

Working environment temperature: -40 ~ +85 °C

CPU Tensilica L106
RAM 50KB (available)

Flash 32Mbit
System:
802.11 b/g/n

Frequency range 2.4 GHz ~ 2.5 GHz (2400 MHz ~ 2483.5 MHz)

Built-in Tensilica L106 ultra-low power 32-bit micro MCU with 16-bit thin mode, supporting 80 MHz and 160 frequency

MHz, support for RTOS

WIFI @2.4 GHz, support WPA/WPA2 security mode

Support UART, I2C, GPIO, PWM, SDIO, SPI, ADC, PWM, IR

Built-in 10 bit high precision ADC

Support TCP, UDP, HTTP, FTP

Built-in TR switch, balun, LNA, power amplifier and matching network

Built-in PLL, voltage regulator, and power management components + 20 dBm output power in 802.11b mode

The average operating current is 80mA, the deep sleep holding current is 20uA, and the shutdown current is less than 5uA.

Can double as application processor SDIO 2.0, SPI, UART

Wake up, connect and pass packets within 2ms

Standby power consumption is less than 1.0mW (DTIM3)

Support local serial port burning, cloud upgrade, host download and burning

Support Station / SoftAP / SoftAP + Station wireless network mode

Module size 24mm * 16mm * 3mm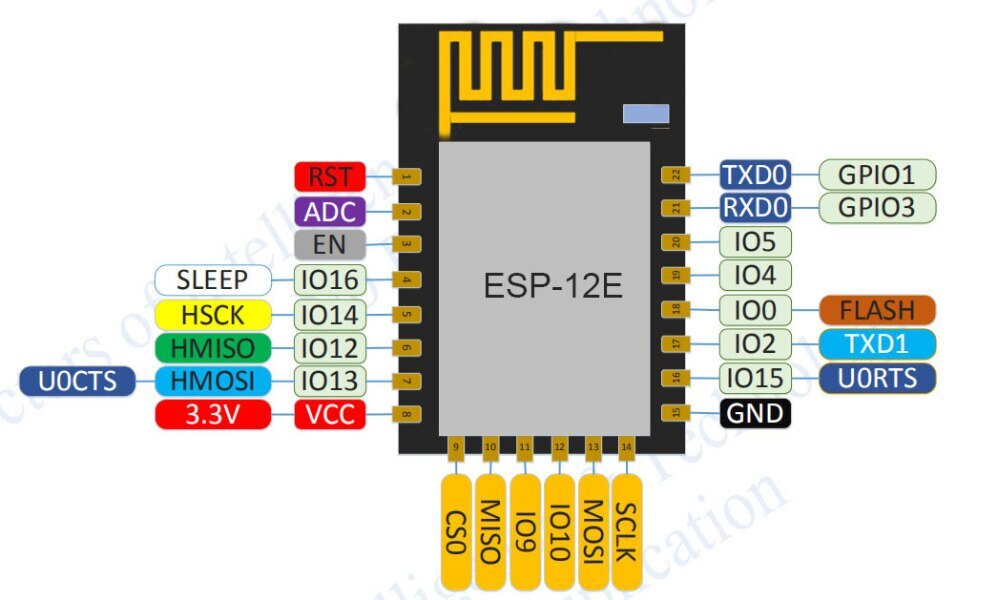 Burning board:
This board is suitable for firmware burning test of modules such as Essence and ESP-12S/12F/12E/07S/07;

All IO ports have been exported and can be used as a minimum system development board or a small batch burning fixture.

The board supports firmware one-click download function and adds programming;

Mode indicator (blue light) and serial communication indicator (green light).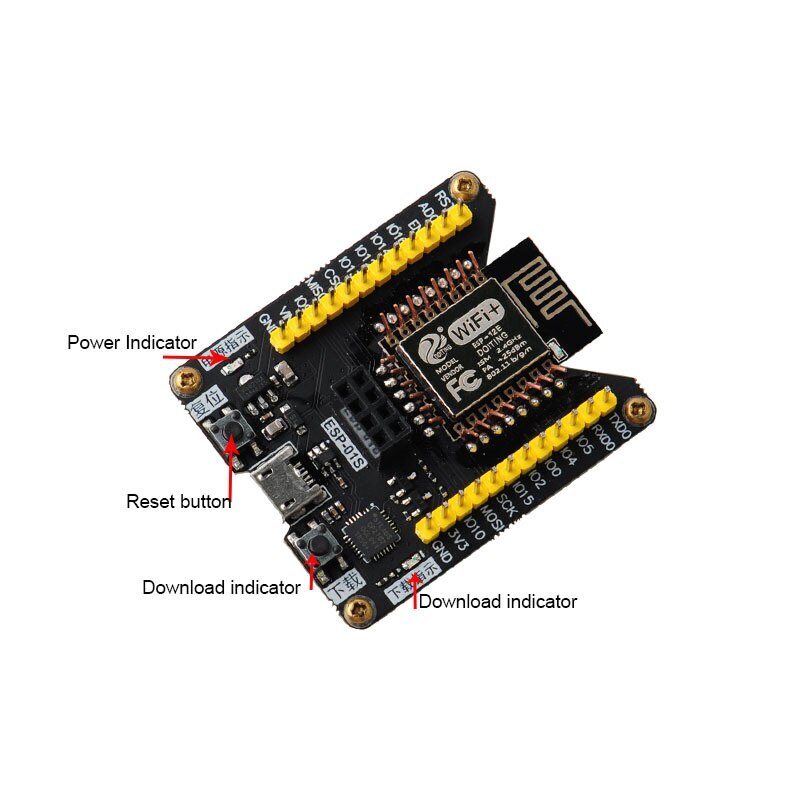 Note:
The module supply voltage is 3.3V DC and the current is 500mA or more;

Wi-Fi module IO maximum output current is 12mA;

Wi-Fi module NRST pin is active low; EN enable pin is active high;

The Wi-Fi module enters the upgrade mode: GPIO0 is at a low level, then the module is reset and powered on; the Wi-Fi module enters the normal working mode: GPIO0 is at a high level, and the module is reset and powered.

The RXD of the Wi-Fi module is connected to the TXD of the external MCU, and the TXD of the Wi-Fi module is connected to the RXD of the external MCU;
Shipping list:
1pcs wifi module= 1 × wifi module

5pcs wifi modules= 5 × wifi module

A set with Micro-ESB= 1 × wifi module + 1 ×

burning board (Interface type: Micro-USB)

A set with Type-C= 1 × wifi module + 1 × burning board (Interface type: Type-C)