Item specifics
Material:
Composite Material
Upgrade Parts/Accessories:
Adapter
RC Parts & Accs:
Connectors/Wiring
Use:
Vehicles & Remote Control Toys
Technical parameters:
Value 6
Remote Control Peripherals/Devices:
Remote Controller
Four-wheel Drive Attributes:
Assemblage
Features:
ESP12 DEV KIT development board expansion module;

Leads all function pins of ESP12 DEV KIT: SPI, UART, GPIO, AI and 3.3V power interface;

Expand two-way motor drive to directly drive two motors;

Onboard power switch;

L293D

Motor power supply range: 4.5V~36V;

Control power supply range: 4.5V~9V;

Motor power supply and control power supply are separated. In the experiment, VIN and VM can be short-circuited by short-circuit block combination, and the motor and control board can be supplied with power.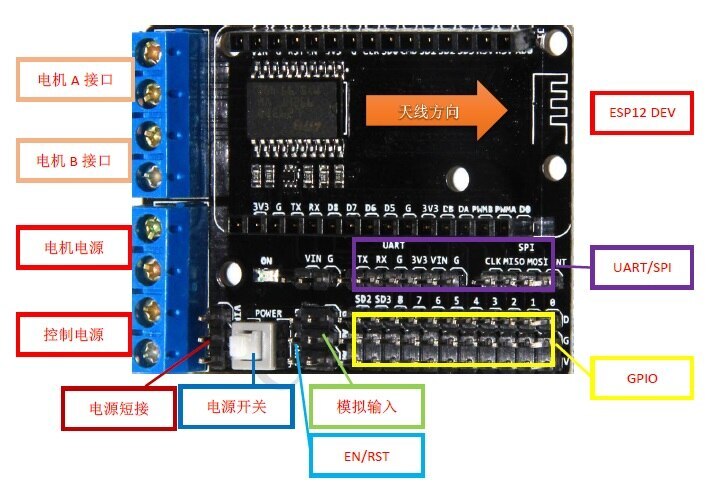 Product specifications:
Motor power supply (VM): 4.5V ~ 36V, can be powered separately;

Control power supply (VIN): 4.5V ~ 9V (10VMAX), can be powered separately;

The module provides short circuit (short circuit VM and VIN), which can conveniently use one power supply (must be 4.5V ~ 9V) to complete the drive and control of the motor at the same time;

Logical operating current Iss: ≤ 60mA (Vi = L), ≤ 22mA (Vi = H);

Driving part operating current Io: ≤ 1.2A;

Maximum power dissipation: 4W (T=90°C)

Control signal input level: high level: 2.3V ≤ VIH ≤ VIN; low level: -0.3V ≤ VIL ≤ 1.5V

Working temperature: -25 ° C ~ +125 ° C

Drive form: dual high power H-bridge drive

ESP12E Dev Kit control port: D1, D3 (A motor); D2, D4 (B motor)

Module weight: about 20g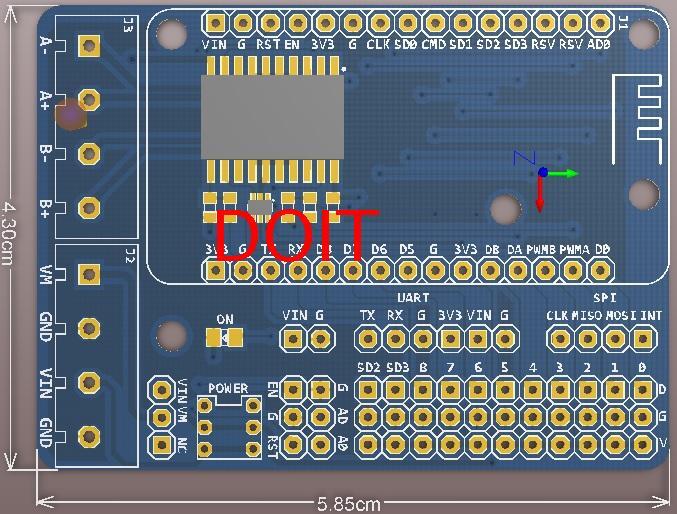 Note:
When inserting an ESP-12E module, pay attention to the direction of the antenna and the direction of the expansion board;

With the shorting module, the control board and the motor can be powered simultaneously;

More documents can be downloaded at wiki.doit.am.
Shipping list:
1 piece

NodeMCU motor driver board