SZDOIT ESP8266 Development Board Web Sever Serial WiFi Expansion Board Transparent Transmission/MQTT/HTTP Firmware For Arduino
0
stars, based on
0
reviews
Price:
$14.60$12.60 / piece
Order Processing Time: This item will be shipped out within 3 working days |
FREE SHIPPING
Color

General purpose
MQTT
HTTP
Item specifics
Material:
Composite Material
Upgrade Parts/Accessories:
Frame
RC Parts & Accs:
Receivers
Use:
Vehicles & Remote Control Toys
Technical parameters:
Value 4
Remote Control Peripherals/Devices:
Remote Controller
Four-wheel Drive Attributes:
Shell/Chassis/Wing/Head
Option Description:
General purpose

means that the development board is transparent transmission firmware

MQTT

refers to the development board is MQTT firmware

HTTP

means the development board is HTTP firmware
Features:
The transparent transmission firmware is through the web configuration parameters, and the serial port data can be transparently transmitted to the set address;

MQTT firmware is through the at and web configuration parameters, the serial port data can be transparently transmitted to the set address, support mqtt;

The http firmware sends the serial port data to the set address through the http request through the serial port command;
WiFi uses industrial grade chip ESP8266, the module is ESP-13 with metal shield, strong anti-interference ability;

The standard pins are compatible with the main control board such as Arduino Uno and Mega2560. The Arduino and UNO are connected with a voltage conversion chip, making 3.3V and 5V compatible.

The serial port is controlled by a dual-dial switch, so that the expansion board can be used as an Arduino Uno expansion board alone or as an ESP8266 expansion board.

Real serial WiFi, Arduino program does not require any configuration;

Configure WiFi parameters and serial port parameters based on Web Server;

Can be used as a stand-alone ESP8266 development board, download official AT command firmware, NodeMCU open source firmware, etc.

Can be used as a stand-alone Arduino Uno expansion board with all pins.
Technical specifications:
Support for wireless 802.11 b/g/n standards;

Support STA/AP working modes;

Built-in TCP/IP protocol stack, you can configure a socket;

Support standard TCP/UDP Server and Client;

Serial port baud rate support: 1200/2400/4800/9600/19200/38400/57600/74800/115200 bps;

Serial data bit: 5/6/7/8 bit;

Serial port parity: none;

Serial port stop bit: 1/2 bit;

Standard Arduino UNO, Mega pin spacing;

Leading to Arduino Pin 2/3/4/5/6/7/8/9/10/11/12/13;

ESP8266 GPIO 0/2/4/5/9/10/12/13/14/15/16/ADC/EN/UART TX/UART RX;

RESET reset;

KEY button multiplexing configuration function;

Two DIP switches enable serial switching between Arduino and ESP8266;

WiFi working current: continuous transmission: ≈70mA (200mA MAX), standby: <200uA;

Wireless transmission rate: 110-460800bps;

Working temperature: -40 ° C ~ +125 ° C

Module weight: about 20g
Configuration mode: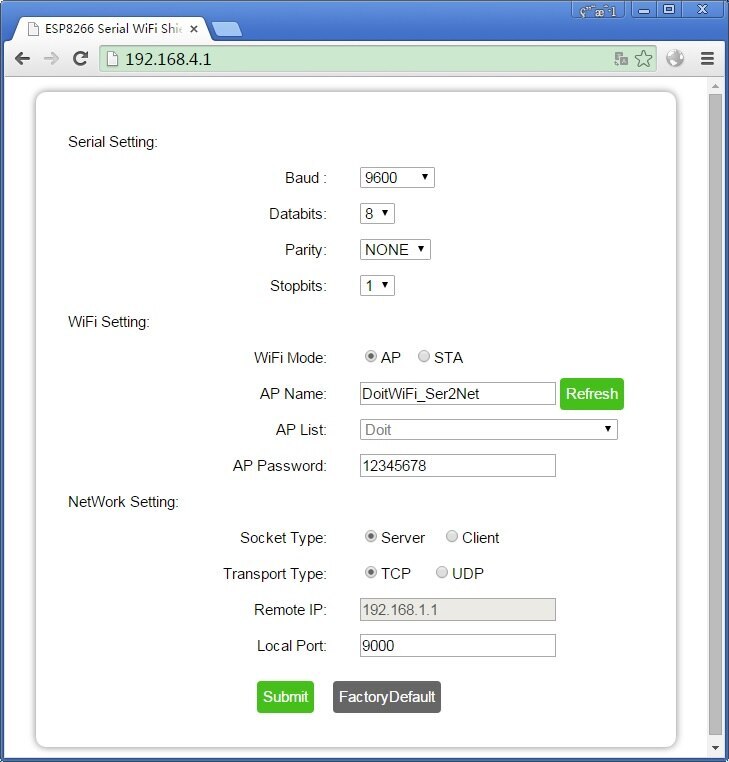 The notebook searches for and connects to the WiFi signal of the WiFi expansion board: "DoitWiFi_Ser2Net" and the password is "12345678"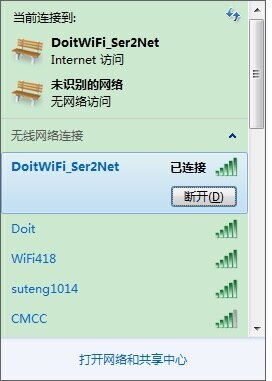 Shipping list:
Note: