SZDOIT Transmission Module ESP-M2 Wifi Module With ESP8285 Development Board Small Batch Burning Fixture For NodeMCU
0
stars, based on
0
reviews
Price:
$3.40$3.40 / piece
Order Processing Time: This item will be shipped out within 3 working days |
FREE SHIPPING
Color

1pcs wifi module
5pcs wifi module
ESP8285 test board
A set
Item specifics
Upgrade Parts/Accessories:
Adapter
RC Parts & Accs:
Receivers
Use:
Vehicles & Remote Control Toys
Technical parameters:
Value 5
Remote Control Peripherals/Devices:
Receivers
Four-wheel Drive Attributes:
Assemblage
Introduction:
ESP8285=ESP8266+1M Flash, which can withstand high temperatures up to 125 degrees Celsius!

And the original ESP8266 source program can be used as it is.

The core processor of the ESP-M2 module uses the cost-effective chip ESP8285.

The chip integrates an enhanced version of Tensilica's L106 Diamond Series 32-bit core processor in a smaller package with on-chip SRAM.

The ESP8285 has a full Wi-Fi network function, which can be used independently or as a slave to other host MCUs.

When the ESP8285 hosts an application, it can be launched directly from external Flash.

The built-in cache helps improve system performance and optimizes the storage system.

In addition, the ESP8285 can be used as a Wi-Fi adapter via the SPI/SDIO interface or I2C/UART port for any microcontroller-based design.
Features:
Ultra-small size;

Serial to WiFi;

Wireless transparent transmission;

Long distance ultra low power consumption;

High temperature resistance up to 125°C

Fully compatible with ESP8266, the source code can be used as it is.
Parameters:
SOC characteristics:
Built-in Tensilica L106 ultra-low power 32-bit microprocessor with 80MHz and 160MHz frequency support, RTOS support

Built-in TCP/IP protocol stack

Built-in 1 10 bit high precision ADC

Peripheral interface HSPI, UART, I2C, I2S, IR Remote Control, PWM, GPIO

Deep sleep keeps current at 10uA and shutdown current is less than 5uA

Wake up, connect and pass packets within 2 ms

Standby power consumption is less than 1.0mW (DTIM3)

Built-in 1Mbyte SPI Flash
Wi-Fi parameters:
Support for 802.11 b/g/n/e/i

Support Station, SoftAP, SoftAP STA mode

Support for Wi-Fi Direct (P2P)

Supports hardware acceleration of CCMP (CBC-MAC, counter mode), TKIP (MIC, RC4), WAPI (SMS4), WEP (RC4), CRC

P2P discovery, P2P GO mode/GC mode and P2P power management

WPA/PA2 PSK and WPS

802.11 i security features: pre-authentication and TSN

Support for 802.11n (2.4 GHz)

802.1h/RFC1042 frame packing

Seamless roaming support

Support AT remote upgrade and cloud OTA upgrade

Support for Smart Config (including Android and iOS devices)
Module peripheral:
2xUART

1xADC

1xEn

1x wake-up pin

1xHSPI

1xI2C

1xI2S

Up to 10xGPIOs

Operating temperature range: -40°C-125°C

Module size: 12.3mm × 20mm (M2 version)
Application scenario:
Household appliances

Home automation

Smart socket, smart light

Mesh network

Baby monitor

IP camera

Sensor Networks

Wearable electronics

Security ID tag

Wireless location awareness

Wireless positioning system beacon

Industrial wireless control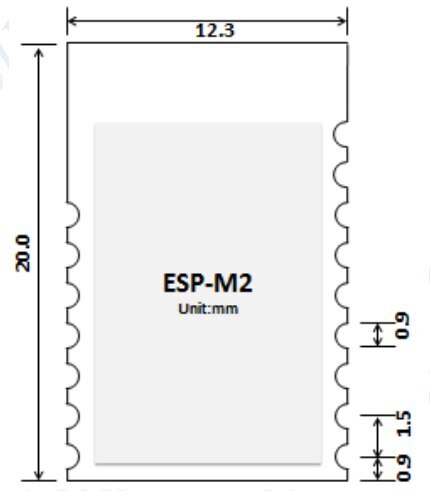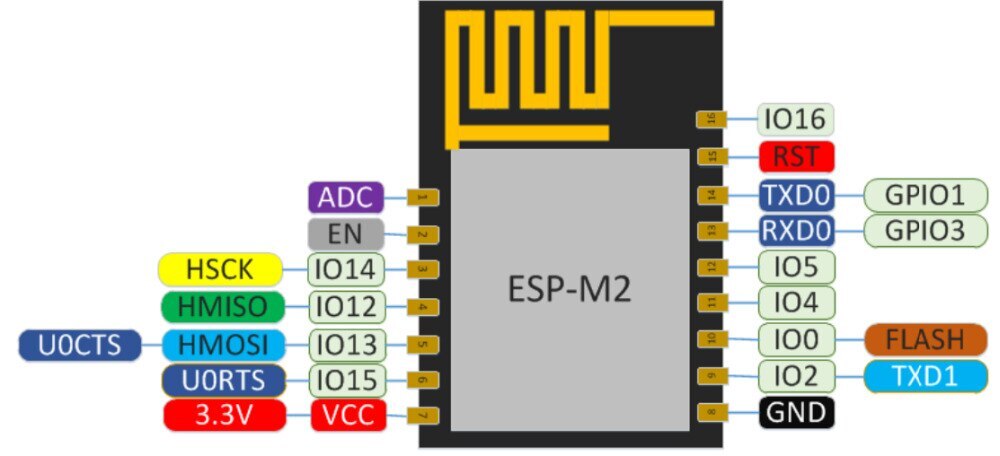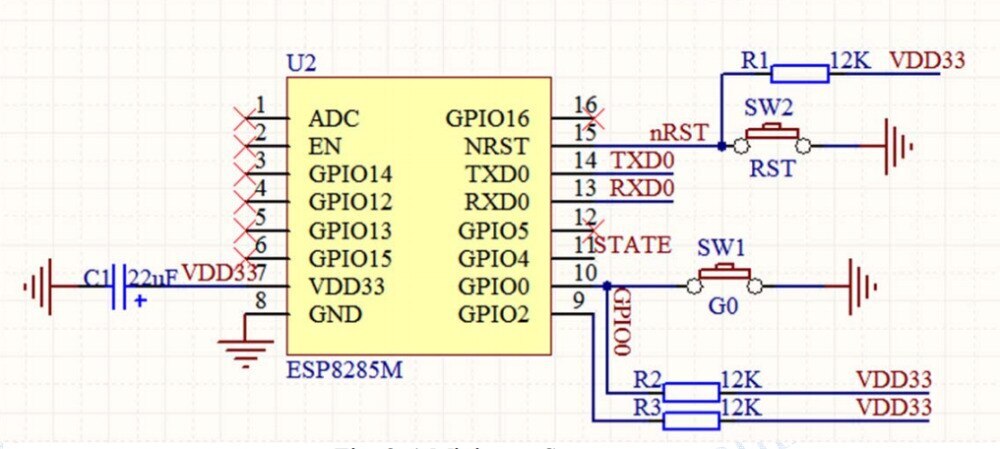 ESP8285 test board:
This board is suitable for firmware burning test of modules such as ESP-12S/12F/12E/07S/07.

All IO ports have been exported and can be used as a minimum system development board or a small batch burning fixture. The board supports firmware one-click download function and adds programming

Mode indicator (blue light) and serial communication indicator (green light).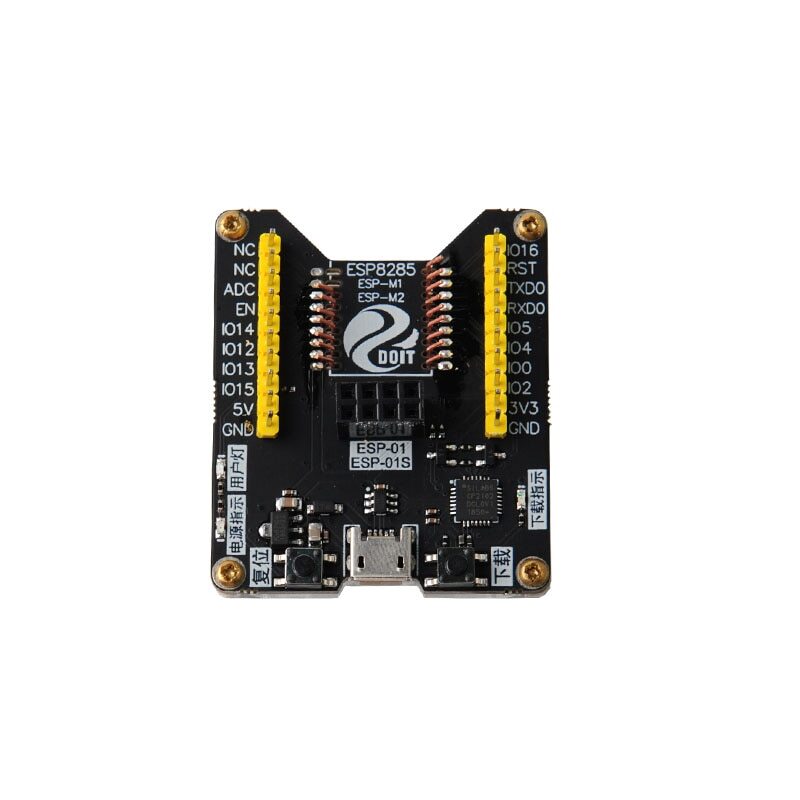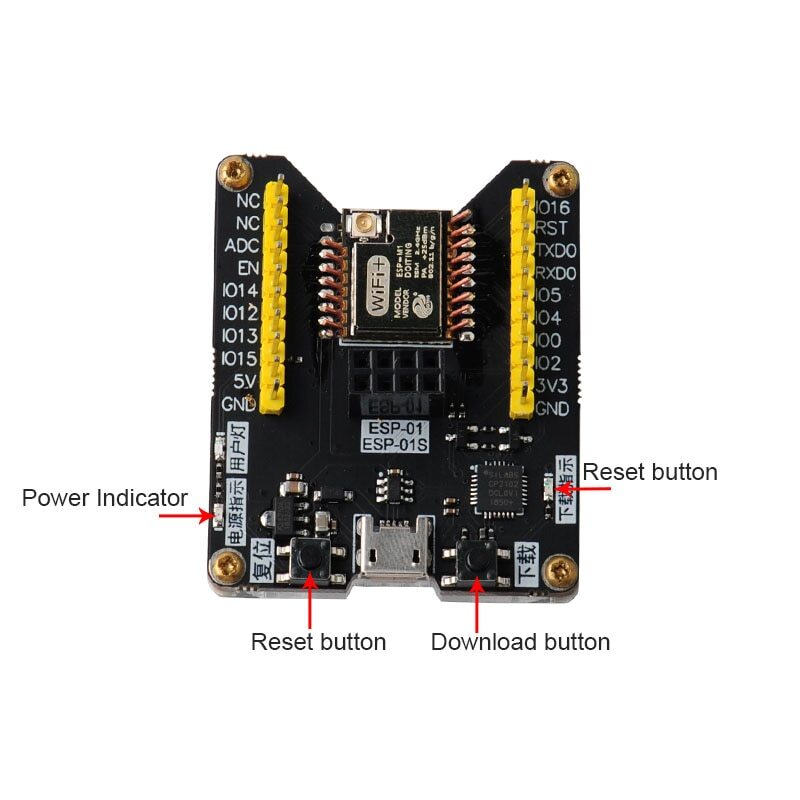 Shipping list:
1pcs wifi module= 1 × ESP-M2 wifi module

5pcs wifi module= 5 × ESP-M2 wifi modules

ESP8285 test board= 1 × ESP8285 test board

A set= 1 × ESP-M2 wifi module +

1 × ESP8285 test board
Note:
The module supply voltage is 3.3V DC and the current is 500mA or more;

Wi-Fi module IO maximum output current is 12mA;

Wi-Fi module NRST pin is active low; EN enable pin is active high;

The Wi-Fi module enters the upgrade mode: GPIO0 is at a low level, then the module is reset and powered on; the Wi-Fi module enters the normal working mode: GPIO0 is at a high level, and the module is reset and powered.

The RXD of the Wi-Fi module is connected to the TXD of the external MCU, and the TXD of the Wi-Fi module is connected to the RXD of the external MCU;