SZDOIT Wifi/Bluetooth/Handle Control Kit 2/4-channel DC Motor & 16-channel Servo Drive Board for RC Robot Parts for Arduino
0
stars, based on
0
reviews
Price:
$22.60$15.50 / piece
Order Processing Time: This item will be shipped out within 3 working days |
FREE SHIPPING
Color

Drive board
Wifi control kit
Bluetooth control
Handle control kit
Item specifics
Material:
Composite Material
Upgrade Parts/Accessories:
Adapter
RC Parts & Accs:
Connectors/Wiring
Use:
Vehicles & Remote Control Toys
Technical parameters:
Value 5
Remote Control Peripherals/Devices:
Remote Controller
Four-wheel Drive Attributes:
Assemblage
Features:
Simultaneously drive 2 or 4--channel DC motors and 16-channel servos;

Compatible with Arduino development board,

it can be used directly by stacking;

Support WiFi DT-06, Bluetooth HC-05, and communication methods such as handles;

WiFi version and Bluetooth version require mobile phone installation APP, currently only supports Android system;

It is a Best choice for developing robotic arms, robots, smart cars, and balance cars;

According to the actual measurement, this development board can drive a load of about 3-5kg.
Module pin description and schematic:
16-way steering gear & 4-way motor drive board, using TB6612 four-way drive, PCA9685 for 16-way servo control.

Bring out the Arduino UNO I/O pin;

The maximum input voltage of the power supply is 15V/DC;

Reserve Bluetooth & WIFI module sockets;

Reserve PS2 handle socket;

Four-way DC motor drive, single-channel maximum drive current 1.2A average / 3.2A peak;

6-way servo drive pin, power supply can be switched by external/internal power supply of jumper cap;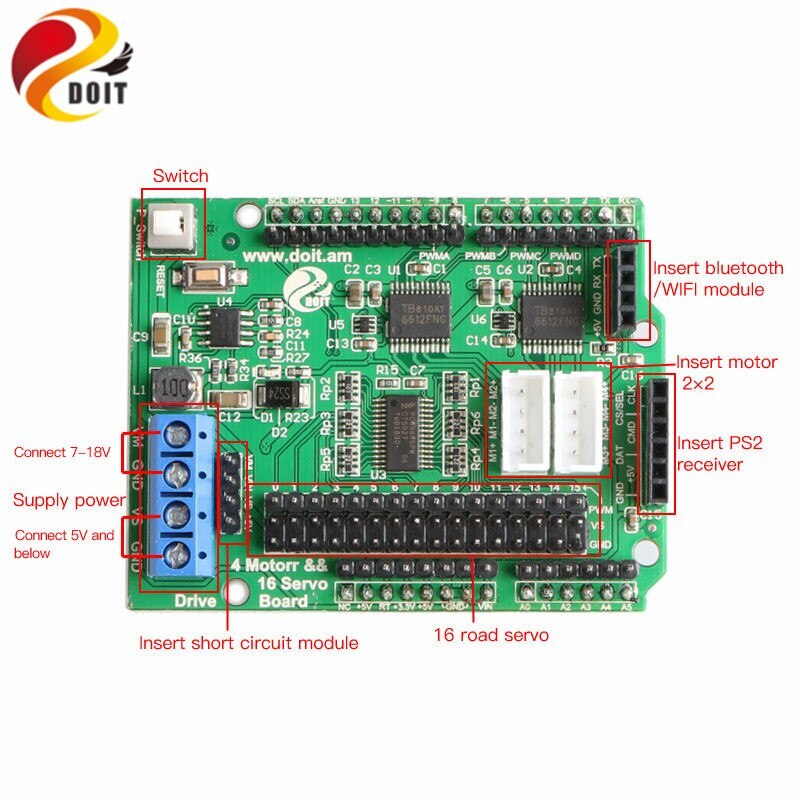 Product technical specifications:
Power input:
Motor power supply (VM): 4.5V ~ 36V, can be powered separately;

Servo power supply (VIN): 5 ~ 18V, can be powered separately;
Single power supply use:
Open circuit VM and VIN, (separately control the motor, 6 ~ 36V);

Open circuit VS and VIN, separately control the servo (6 ~ 18V);

Short-circuit VM and VIN while shorting VS and 5V.

Simultaneous control of motor (6 ~ 18V) and 16 5V servo
Shipping list:
Drive board= 1 × drive board

Wifi control kit= 1 × drive board + 1 × wifi module + 2 ×

Motor line

Bluetooth control kit= 1 × drive board + 1 × bluetooth module + 2 ×

Motor line

Handle control kit= 1 × drive board + 1 × handle kit  + 2 ×

Motor line
Note:
Driver board blue and green color random.

More documents can be downloaded at wiki.doit.am.